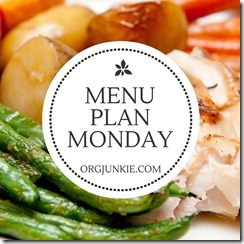 2/4/17 – 2/19/17
Saturday, 4th – Rotisserie Chicken, Stuffing and Veggie
Sunday, 5th – Hawaiian Ham and Swiss Sliders, Cheese Sticks, Chips
Monday, 6th – Garlic Parmesan Mac & Cheese – Sausage – Corn
Tuesday, 7th – Garlic Chicken (Crockpot) – Mashed Potatoes – Corn
Wednesday, 8th –
SAUSAGE RICE CASSEROLE
2 packages (7.2 ounces each) rice pilaf mix
2 pounds bulk pork sausage
6 celery ribs, chopped
4 medium carrots, chopped
1 can (10-3/4 ounces) condensed cream of chicken soup, undiluted
1 can (10-3/4 ounces) condensed cream of mushroom soup, undiluted
2 teaspoons onion powder
½ teaspoon garlic powder
¼ teaspoon pepper
Prepared rice mixes according to package directions. Meanwhile, in a large skillet, cook sausage, celery and carrots over medium heat until meat is no longer pink; drain. In a large bowl, combine the sausage mixture, rice mixture and the remaining ingredients. Transfer to two greased 11-in x 7-in, x 2-in. baking dishes.
Cover and bake one casserole at 350 degrees for 40-45 minutes or until the vegetables are tender. Cover and freeze remaining casserole for up to 3 months. YIELD: 2 casserole (6-8 servings each)
Thursday, 9th – Taco Salad
Friday, 10th – Cream Cheese and Chicken Taquitos
Saturday, 11th – Cauliflower Soup
Sunday, 12th – BAKED TERIYAKI CHICKEN * Liked by everyone! Another Restaurant meal according to hubby! Asian flavored quinoa – Fresh 20 December 30th
INGREDIENTS
1 tablespoon cornstarch
1 tablespoon cold water
1/2 cup white sugar
1/2 cup soy sauce
1/4 cup cider vinegar
1 clove garlic, minced
1/2 teaspoon ground ginger
1/4 teaspoon ground black pepper
12 skinless chicken thighs
DIRECTIONS
In a small saucepan over low heat, combine the cornstarch, cold water, sugar, soy sauce, vinegar, garlic, ginger and ground black pepper. Let simmer, stirring frequently, until sauce thickens and bubbles.
Preheat oven to 425 degrees F (220 degrees C).
Place chicken pieces in a lightly greased 9×13 inch baking dish. Brush chicken with the sauce. Turn pieces over, and brush again.
Bake in the preheated oven for 30 minutes. Turn pieces over, and bake for another 30 minutes, until no longer pink and juices run clear. Brush with sauce every 10 minutes during cooking.
Monday, 13th – Mushy Eggs and Toast (mom's version)
Tuesday, 14th – Garlicky Alfredo Shrimp Bake
Wednesday, 15th – Comforting Noodle Soup
Thursday, 16th – Mongolian Beef Ramen
Friday, 17th – Chicken Parmesan Sliders – Chips
Saturday, 18th – Baked Chicken Fajitas Recipe
Sunday, 19th – Maple Balsamic Chicken Sheet Pan Meal
Various Slider Recipes: https://www.buzzfeed.com/alvinzhou/your-slider-game-will-never-be-the-same-after-watching-this?bffbtasty&utm_term=.vrWgjAxo5#.vjmjyk1wP