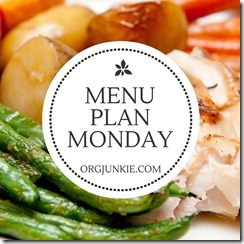 12/09/16 – 12/17/16
Cookie Party Menu
Caprese Bites
Meatballs
Little Smokies
Smoked Salmon
Shrimp Cocktail
Honey Baked Cauliflower – Oven
Spinach Artichoke Dip with Scoops – Oven
Cheese Ball and Crackers
Pioneer Woman Stuffed Mushrooms – Oven
Brie, Apple and Honey Crostini – Oven
Cocoa
Weekly Low Carb Meals for Me:
Stuffed Chicken Breasts (for next week)
Friday – Chicken and Broccoli Stir Fry – Fried Rice
Saturday – Steak Salad
Sunday – Cookie Party
Monday – Appetizer Leftovers
Tuesday – Sausage – Mac and Cheese
1-1/2 cups uncooked elbow macaroni
5 tablespoons butter or margarine, divided
3 tablespoons all-purpose flour
1-1/2 cups milk
1 cup (4 ounces) shredded cheddar cheese
2 ounces process American cheese, cubed
½ teaspoon salt
¼ teaspoon pepper
2 tablespoons dry bread crumbs
Cook macaroni according to package directions; drain. Place in greased
1-1/2 qt. baking dish; set aside. In a saucepan, melt 4 tablespoons of
butter over medium heat. Stir in flour until smooth. Gradually add
milk; bring to a boil. Cook and stir for 2 minutes; reduce heat. Stir
in cheese, salt and pepper until cheese is melted. Pour over macaroni;
mix well. Melt the remaining butter; add the breadcrumbs. Sprinkle
over casserole. Bake, uncovered, at 375 degrees for 30 minutes.
Yield : 6 Servings
Wednesday – Easy Chicken & Rice Casserole
Chicken breasts
1 cup rice
1 can your choice cream of … soup
1 packet Italian seasoning mix
2 cups boiling water
Salt & pepper, or your favorite seasonings
Mix soup, rice and Italian Seasoning with 2 cups boiling water.
Pour into a 9 x 13 baking pan, place Chicken on top and sprinkle with paprika.
Cover with foil and bake for 1 hour and 20 minutes. Put in oven at 350.
Thursday –Ground Philly Cheesesteak Grilled Cheese
Friday – French Bread Pizza (spinach crust pizza)
Saturday, – Coymas
For more Menu Planning inspiration stop by and visit Laura at Organizing Junkie and participate in Menu Plan Monday.
Wishing you a wonderful week!!