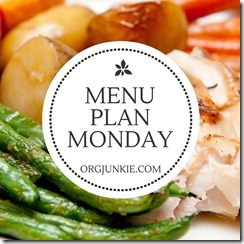 5/28/16 – 6/6/16
SATURDAY – Quick Chicken Caesar Salad (Rotisserie Chicken)
SUNDAY – Chicken Fajitas and Spanish Rice
MONDAY – Fried Chicken , Red Potato Salad Dijon (S&D – April/May 2014 – pg 35), Corn on the Cob
TUESDAY – TACOS FOR A CROWD (crockpot)
2-1/2 lbs. lean ground beef
1 medium onion, chopped
2 cans (10 oz) stewed tomatoes
2-3 cans (8 oz) tomato sauce
2 pkgs. taco mix
Salt and pepper to taste
3 dozen taco shells
Brown meat, drain and add onion. Combine stewed tomatoes, tomato
sauce, taco mix and salt and pepper in a crockpot. Add meat
mixture. Cook on high for 1-1/2 hours continue cooking for 2 hours
on medium or the low setting. Serve with shredded lettuce, diced
tomatoes, onions, olives, cheese and sour cream on browned shells
WEDNESDAY – Tater Tot Casserole
1 lb ground turkey cooked, seasoned, drained
2lb bags tater tots
1 can cream of mushroom
1 can evaporated milk
1 can cream of chicken
Brown meat & place in large cass. dish.
Cover with tater tots. Mix soup & milk together.
Pour over top. Bake at 350 for 1 Hour.
(One of Daddy's Favorites!) Makes 1- 9"X13" pans
Add Mixed Veggies to meat before doing rest of recipe
THURSDAY – Creamy Angel Hair with Sausage and Spinach
FRIDAY – PECAN CHICKEN TENDERS with HONEY MUSTARD Corn & Kale Sauté and Strawberries (Fresh 20 GF, May 20, 2016)
SATURDAY – Amy's Graduation Ceremony – French Dip Sandwiches, Corn on the Cob and Potato Salad
3-4 lb. roast
2 tbsp. yellow mustard
1 package onion soup mix
French rolls
Place meat in slow cooker, cover with mustard and sprinkle with onion soup mix. Cover and cook on low for 8-12 hours (depending on how hot your slow cooker cooks). When fully cooked, carve into thick slices or shred. Strain broth and skim fat if desired. Serve meat on French rolls with juice in small bowls or saucers for dipping
SUNDAY – Grad Party – Shaved Brussels with Apple and Walnuts
1 bunch Nappa (chinese) cabbage
1 Bunch Green Onions
1/2 C Margarine
1/2 C Sesame Seeds
1/2 C Slivered almonds
2 pk Ramon noodles, oriental
1/2 C Sugar
1/2 C Oil
1/4 C White Vinegar
1 Tablespoon Soy sauce
1/8 teaspoon Garlic Powder
Chop the nappa cabbage and green onions. Saute the sesame seeds, slivered almonds and 2 pkgs of Ramon noodles in 1/2 cup of butter. DO NOT USE THE FLAVOR PACKETS. Stir constantly. Let the mixture cool before storing in the refrigerator. Add to the cabbage when ready to serve. Mix the remaining ingredients for the dressing. Store in the refrigerator until ready to serve. Shake well and pour over salad.
MONDAY – CHICKEN BEAN SOUP (Fresh 20 GF, May 20, 2016)
Wishing you a wonderful week!!