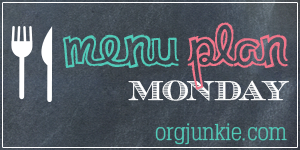 March 2nd – March 16th, 2014
Saturday, March 1st – Rotisserie Chicken, Stuffing and Corn
Sunday , March 2nd – (Soccer) – Mom's Mac N Cheese (Double) – Sausage
Monday, March 3rd – (Soccer)(Working Late)  Crockpot Chili
Tuesday, March 4th – (FPU) – Tater Tot Hotdish
Wednesday, March 5th – Chicken Salad and Croissants – Pasta Salad
Thursday, March 6th – (Sorting) – Slow Cooked Beef Stew
Friday, March 7th – Turkey, Cheddar And Apple Sandwiches – French Fries and Strawberries  (Emeals #522)
Saturday, March 8th –  Pork Loin with Cranberry Sauce (Wknd) (30 mins) (Emeals – #519) Garlic Mashed Potatoes & Rutabagas
SUnday, March 9th – (Soccer) Crockpot Sticky Chicken (marinated over night) Parmesan Cheese Noodles and Corn
WEEK #2
Monday, March 10th – (Soccer) – Hearty Salisbury Steak, Mashed Potatoes, Peas (Simple/Delicious April/May 2014 – Pg 25)
Tuesday, March 11th – (FPU) – Chicken Tacos (Crock Pot), Corn Sassy Black Beans (Emeals #522)
Wednesday,  March 12th – Easy Beef Macaroni and Cheese
Thursday,  March 13th – Creamy Chicken Enchilada Soup – Tortilla Chips  (Emeals #522)
Friday,   March 14th – Philly Cheese Brats – Potato Chips  (Emeals #523)
Saturday, March 15th – Garlic -Rosemary Chicken, Steamed Veggies and Apples (Slow Cooker)  (Emeals #522)
Sunday, March 16th –  (Soccer) Country Meatloaf,  Mashed Potatoes and Corn
Food Budget:  We decided to start tracking how much we spend on food/household expenses each month again in hopes to budget appropriately.  Wanting to keep our budget at $100 per person each month.   We are a household of 5 adults, 1 growing boy who eats like an adult and 1 toddler.
Shopping Trip:  3/1/14
Aldi – $72.50
Walmart – $ 85.19
Sam's Club – $174.51
Total for 2 weeks of food: $332.20/6.5   (count baby as 1/2) = $ 51.10 per person or  $166.10 per week on groceries.
For more Menu Planning inspiration stop by and visit Laura at Organizing Junkie and participate in Menu Plan Monday.  Need help getting started menu planning –  Emeals is a great solution.  Many meal plans to chose from at a very affordable price.
Wishing you all a wonderful week!!!
Happy Cooking!!