An easy and very yummy dessert!  This was made for the first day of school.  You have to have dessert on the 1st Day of School!!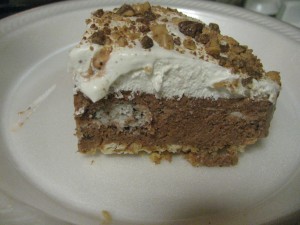 Chocolate Delight Dessert Recipe
Author:
Simple & Delicious - June/June 2013
I made this for my son on the 1st day of school. Very creamy and similar to a French silk. Definitely will be making this again!
Ingredients
1 Cup crushed Saltines
½ cup graham cracker crumbs
⅓ Cup Butter, Melted
2 Cups Milk
1 pkg. (3.9 oz.) instant chocolate pudding mix
1 pkg. (3.4 oz.) instant vanilla pudding mix
1-1.2 qt. cookies and cream Ice cream, softened
1 carton (12 oz) frozen whipped topping, thawed
3 Heath candy bars (1.4 oz each), crushed
Instructions
In a small bowl, combine saltine and graham cracker crumbs; stir in butter
Press onto the bottom of a greased 9x13 baking pan.
Refrigerate 15 minutes.
Meanwhile, in a large bowl, whish milk, and pudding mixes for 2 minutes.
Fold in ice cream.
Spread over crust.
Top with whipped topping, sprinkle with crushed candy bars.
Freeze, covered until firm.
Remove from freezer 30 minutes before serving.
Happy Cooking!