Did your mom make Hamburger Helper meals when you were a kid??  My mom did as they were a quick and easy way to feed our family.  I like to make quick meals during the week and skillet meals fit that bill, but I try make all our meals from fresh ingredients.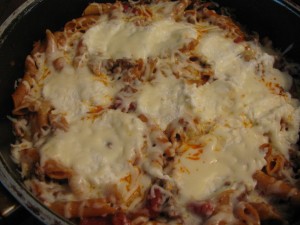 I found the recipe for Easy Skillet Lasagna on Lynne's Kitchen Adventures Blog and I just had to try it.   It was a hit with our family and will be added to our easy weekday meal list.   Lynne is a Menu Plan Monday Participant so make sure you check out what is on her menu each Monday!

Easy Skillet Lasagna Recipe
Recipe type:
Main Dish - Beef
Do you remember Lasagna Hamburger Helper?? This recipes reminds me of that, but only it is good! An easy meal to make during the week after work.
Ingredients
◾1 pound ground beef
◾1 onion, finely chopped
◾1 clove garlic minced
◾1- 14½ ounce diced tomatoes, undrained
◾1½ cups water
◾1 – 6 ounce can tomato paste
◾1 tablespoon dried parsley flakes
◾2 teaspoons dried oregano
◾1 teaspoon salt
◾2½ cups broken lasagna noodles or other similar shaped pasta (I various leftover Penne Pasta)
◾3/4 cup ricotta cheese
◾1/4 cup grated Parmesan cheese
◾1 cup shredded mozzarella cheese
Instructions
◾In a large skillet cook beef with onion until beef is cooked and onion is tender. Add garlic and cook for 1 more minute.
◾Add tomatoes, water, tomato paste, parsley, oregano, and salt to skiller. Stir well.
◾Add in pasta and stir. Bring to a boil, then reduce heat. Cover and simmer 20 minutes, checking part way through. Add more water if needed.
◾Combine Parmesan cheese and ricotta cheese and drop by spoonfuls on top of pasta mixture. Sprinkle with mozzarella cheese and cook covered 5 more minutes or until cheese has melted.
Serve with Salad and Garlic Bread.
Happy Cooking!