Taste of Home does it again!   Another great recipe we tried out of Taste Of Home: Best Loved Recipes.  What a great cookbook!
Best Broccoli Soup Recipe is very easy to make.  This is a cream based soup and not cheesy so it pairs very nicely with grilled cheese sandwiches.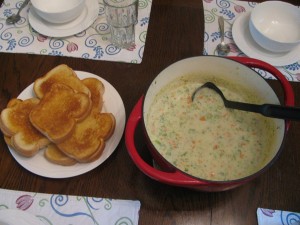 Best Broccoli Soup
Prep time:
Cook time:
Total time:
Great Soup recipe....I even used frozen Broccoli and it was very good!
Ingredients
•2 cups water
•4 cups chopped fresh broccoli (about 1-1/2 pounds)
•1 cup chopped celery
•1 cup chopped carrots
•1/2 cup chopped onion
•6 tablespoons butter, cubed
•6 tablespoons all-purpose flour
•3 cups chicken broth
•2 cups 2% milk
•1 tablespoon minced fresh parsley
•1 teaspoon onion salt
•1/2 teaspoon garlic powder
•1/2 teaspoon salt
Instructions
•In a Dutch oven, bring water to boil. Add the broccoli, celery and carrots; boil 2-3 minutes or until crisp-tender. Drain; set vegetables aside.
•In the same pot, saute onion in butter until tender. Stir in flour to form a smooth paste. Gradually stir in broth and milk until smooth. Bring to a boil; cook and stir for 1 minute or until thickened.
•Stir in reserved vegetables and remaining ingredients. Reduce heat; cook, stirring occasionally, for 15 minutes or until vegetables are tender.
Happy Cooking!