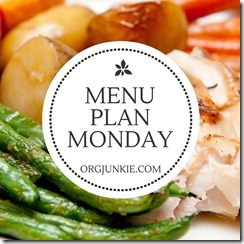 5/16/16 – 5/26/16
WEEK#1
Sunday: Almond Crusted Tilapia – Asparagus Quinoa (Fresh HP 4/29/16)
Monday: Cheesy Goulash
Tuesday: Noodle Soup and Grilled Cheese Sandwiches
Wednesday: Salad – Chicken Salad /Strawberry and Blueberry
Thursday: Amish Breakfast Casserole and Sausage
Friday: Hamburgers and Tots
Saturday: Cheesy Ham and Potato Soup/ Salad
Sunday: CHICKEN RISOTTO
2 cups uncooked white rice
1 (10.75 ounce) can condensed cream
of mushroom soup
2 cups chicken broth
1 cup fresh mushrooms, sliced
2 tablespoons chopped green bell pepper
3 tablespoons chopped fresh basil
1 tablespoon dried minced onion
1 teaspoon dried oregano
3 cloves garlic, minced
1/4 teaspoon ground black pepper
1/4 cup grated Parmesan cheese
4 chicken thighs
3 tablespoons Italian-style dry bread
crumbs
2 tablespoons grated Parmesan cheese
Directions:
Preheat oven to 325 degrees F (165 degrees C).
In a large bowl, combine the rice, mushroom soup, chicken broth, mushrooms, green bell pepper, basil, onion, oregano, garlic, ground black pepper and 1/4 cup cheese. Stir until all ingredients are well mixed.
Pour this mixture into a 9×13 inch baking dish. Place the chicken on top of the mixture and cover with foil. In a separate small bowl, combine the bread crumbs and remaining cheese and set aside.
Bake at 325 degrees F (165 degrees C) for 1 hour, remove from oven, uncover and sprinkle with the reserved bread crumb mixture. Return to oven and bake, uncovered, for 20 more minutes, or until golden brown.
WEEK#2
Monday: Meatloaf –Mashed Potatoes – Carrots
Tuesday: Tacos (crockpot)
TACOS FOR A CROWD (crockpot)
2-1/2 lbs. lean ground beef
1 medium onion, chopped
2 cans (10 oz) stewed tomatoes
2-3 cans (8 oz) tomato sauce
2 pkgs. taco mix
Salt and pepper to taste
3 dozen taco shells
Brown meat, drain and add onion. Combine stewed tomatoes, tomato
sauce, taco mix and salt and pepper in a crockpot. Add meat
mixture. Cook on high for 1-1/2 hours continue cooking for 2 hours
on medium or the low setting. Serve with shredded lettuce, diced
tomatoes, onions, olives, cheese and sour cream on browned shells
Wednesday: Tater Tot Casserole
1 lb ground turkey cooked, seasoned, drained
2lb bags tater tots
1 can cream of mushroom
1 can evaporated milk
1 can cream of chicken
Brown meat & place in large cass. dish.
Cover with tater tots. Mix soup & milk together.
Pour over top. Bake at 350 for 1 Hour.
(One of Daddy's Favorites!) Makes 1- 9"X13" pans
Add Mixed Veggies to meat before doing rest of recipe
Thursday: EASY BEEF ENCHILADAS (What's For Dinner Site)
Ingredients
2 cups cooked, ground beef
2 10 oz cans Enchilada Sauce
1 1/2 cups shredded cheese (I use Kraft 2% milk cheddar)
1 12 ct. pkg. flour tortillas
Directions
1. Heat oven to 375 degrees F. Heat chicken, 3/4 cup enchilada sauce, and 1 cup cheese in skillet until warmed through and cheese is melted.
2. Spoon enchilada filling onto tortillas; roll up and place seam-side down in lightly greased 13x9x2 baking dish.
3. Pour remaining enchilada sauce over top; sprinkle with remaining 1/2 cup cheese. Bake at 375 for 15-20 minutes.
Wishing you a wonderful week!!