Chicken Salad is a favorite summer meal in our house.  It is an easy meal for a busy week day.   We usually serve it on bread or croissants.  Add some fruit and it is a wonderful summer meal!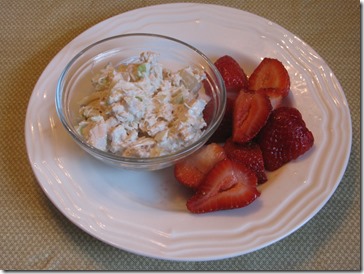 Enjoy!
Chicken Salad Recipe
Author:
*Six Ingredients or Less by Carlean Johnson
Easy Meal for your busy weekday! Many times I make this salad the evening before to have it ready the next day when I return from work. Especially helpful on busy soccer nights.
Ingredients
2 cups cooked finely diced chicken
¾ cup finely chopped celery
3 tablespoons finely chopped onion
½ cup chopped slivered almonds
1-1/4 cups mayonnaise (approximately)
Salt and Pepper to taste
Instructions
Combine ingredients in mixing bowl. Cover and chill until ready to use. Makes 4 servings.