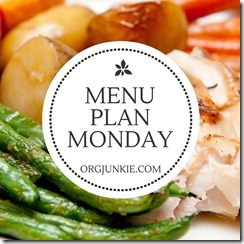 10/1/16 – 10/16/16
Saturday, Oct. 1st – Harvest Sheet Pan Chicken (didn't like this chicken –cinnamon on chicken not my fav)
Sunday, Oct. 2nd – Slow Cooker Turkey Breast With Gravy -Taste of home/Simple Oct/Nov 2016 pg 72 – Mashed Potatoes and Green Bean (Paul likes this crockpot meal)
Monday, 3rd- Chicken Cordon Bleu Bake
Tuesday,4th – Rotisserie Chicken (crockpot) – Broccoli Slaw – Stuffing (Paul likes this crockpot meal)
Wednesday, 5th – Best Slow Cooker Beef Stew
Thursday, 6th – Chicken and Broccoli Stir Fry x 2
Friday, 7th – Marlboro Man Sandwich and Chips
Saturday, 8th – (4) CHICKEN OKRA STEW
Sunday, 9th – (1) GLAZED PORK CHOPS sweet potatoes & green beans (Fresh 20 Sept 23, 2016)
Monday, 10th – (3) CHOPPED FALL SALAD (Fresh 20 Sept 23, 2016)
Tuesday,11th – Unstuffed Cabbage Roll Soup (Crockpot) (Paul likes this crockpot meal)
Wednesday, 12th – French Dip Sandwiches(Crockpot) (Paul likes this crockpot meal)
Thursday, 13th – (5) SWEET POTATO HASH fried eggs (Fresh 20 Sept 23, 2016)
Friday, 14th – Hawaiian Ham and Swiss Sliders
Saturday, 15th – (2) SEARED SCALLOPS creamy vegetable rice (Fresh 20 Sept 23, 2016)
Sunday,16th –Chicken Alfredo Roll ups
Recipes to try:
Tuscan White Bean Sausage Soup (Crockpot)
Mexican Chicken Soup (Crockpot)
Slow Cooked Balsamic Caprese Stuffed Chicken Thighs (Crockpot)
The Fresh 20 is a 5 day meal plan. They offer the following menus: Gluten Free, Dairy Free, Classic, Vegetarian, For One, Kosher and Lunch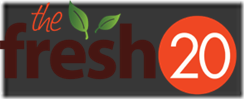 For more Menu Planning inspiration stop by and visit Laura at Organizing Junkie and participate in Menu Plan Monday.
Need help getting started menu planning – Emeals is also great solution. Many meal plans to chose from at a very affordable price.
Wishing you a wonderful week!!