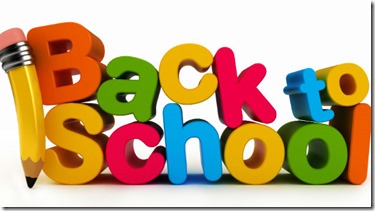 Hello Friends!
Can you believe it is August 1st today??  Summer is winding down and thoughts soon will start turning towards back to school!    Do school expenses sneak up on you???
As tempting as it might be, you don't want to put your budget on auto pilot.  It is different every single month – those irregular expenses (school expenses,car insurance) will pop up and wreck havoc on your progress if you let them.   We have a separate account were we sink funds for our irregular expenses.  You can read more about the type of expenses we sink for in our blog post "FPU: Sink Your Debt with a Sinking Fund"
If you just need a refresher on budgeting here is a great guide by Dave Ramsey about budgeting.  August is month with a lot of irregular expenses.  Dave Ramsey posted a wonderful article about budgeting for August.  He highlights some of the August irregulars that can sneak up on you.
We haven't added these items into our budget.  We were happy to have the reminder provided in the Budgeting for August article.   We will need to add lines into our budget for back to school supplies, a few new clothes (we will shop second hand  at Plato's closet), lunch tickets (yeah, this working mom can't seem to make a lunch for her kiddo) and fall soccer fees.   We have only accounts for an saved for soccer fees out of the list.
The Budgeting for August article includes a reminder that Christmas is 4 months away so hopefully you have been socking some money away.   We did sock away some money from our tax return for Christmas and we are very proud to say, "It is still there!"  Christmas is usually the category we take funds out of if we have run low in our Emergency Fund or our emergencies have come too close together.
For me, Fall is the time of year when I once again am motivated to get my life organized.  Get the house more organized and clean and menu plan more consistently.  It is great to get back into routine after a little bit of a summer slide.   See, I am even posting a article that isn't a menu plan, which I have let slide a bit

Fall also brings to the our household our car insurance bill.  We pay every 6 months for the 4 cars we insure.  So this morning, we get the email that $1302.00 is due by the end of August.   In the past this would put us into a panic or we would have to do the installment plan and pay monthly costing us an additional $250.00 in fees.   But this morning, Hubby said,  "do we have enough money saved for car insurance"??  I wasn't sure so we looked at our Freedom Account spread sheet and we had set aside $1309.00 from our tax return for car insurance.  Seven dollars to spare…..now that is some financial peace that can make you smile!!!
Do you wish you could feel a bit of that Financial Peace???  If you aren't feeling that Financial Peace, join us for our Fall session of Financial Peace University starting on September 16th at 6:30 at First Lutheran Church in White Bear Lake.    Attend the first class for free to get a feel for the class or you can register for the class online on the Dave Ramsey Site.   We have a page on the Dave Ramsey site that is for our specific class.
Remember it is never too late to change your financial future.   Please share this information with others that could benefit as well.  Financial Peace University is a wonderful gift for those newly married.  Give them the gift of starting out on the right foot and missing out on the years of fighting over money!
Financial Peace University, changed our lives, marriage and family tree forever.   That is why we keep coordinating these classes, we have seen the real life changes it has made in us and others.  We have more hope for our future and retirement.   We know we will be able to retire  with dignity   The biggest change was the improvement in our marriage.  Our marriage was strengthened and I can honestly say I can't recall the last time we have a disagreement about money.  We are in it together, support each other and are a great Team!
The part of our journey that always nearly brings me to tears is the changes in our family tree.   That is amazing!!   Our children's thoughts on credit, entitlement and finances are forever changed because of our journey.  The life style our oldest and youngest child have lived are a bit different, but the lessons learned are invaluable.  Of course sometimes, my youngest child has said, "I wish we could be a normal family".   Normal meaning living beyond our means, accruing credit cards debt for vacation that we could not other wise afford, making car payments on new cars, going to movies at the theater and eating out regularly at restaurants.  Sorry, my son, I don't think we will ever be normal again, thankfully.
Our oldest son is 26 and married.   He has been saving for retirement for a number of years already.  They own their home.  They are living in a modest home they can afford easily.  They have a funded Emergency Fund, live by a budget and pay for cash for most things.   I for one could not say that at the age of 26!!   I would hate to tell you how I was living at age 26, but suffice to say it was  BROKE!  The success of our son, is directly related to our decision to change our life and begin the Financial Peace journey.

Our son and his wife are also teaching a Financial Class for teens (Generation Change) at First Lutheran starting on September 16th.   Generation Change is an all-new suite of Bible studies designed to lead teens to a better understanding of God, themselves and their money—and how it all works together.   Can you imagine the life your child will have if you equip them with information on how to handle money God's way at an early age???  Think of all the stress and heart ache they will miss out on!   Our son and his wife taught this last year and the story that impacted me the most was of one young girl getting ready to head to college.  She was working over the summer and saving money for her mission trip, but she also started to save for her retirement.  A 17 year old girl decided that it was a priority for her to save for her retirement !!  Wow, she is going to have one bright future!
If you have any questions about either of these classes simply contact us through our Financial Peace Class page on the Dave Ramsey website.  If you are in the White Bear Lake area, feel free to stop by for the first class to check it out!
Wishing you all a wonderful week!
Blessings…
Paul and Jen
Joyfully Living Below Our Means