Tommy and I headed to South Dakota to spend the week with my parents in Aberdeen, SD.   Here are some highlights from our week.  We did a lot of Geocaching….during the day and night.  Word of advice if it looks like the cache is hid in the alley….not a good cache to look for in the middle of the night!  Near a duck pond is a bit dangerous….but the ducks were not suspicious of us at all.  I think our night time adventures were Tommy's favorite and mine!  If you have never gone Geocaching, you need to check out this very entertaining activity.  We used the Geocaching.com phone app for all our searching!
We were very happy to be able to spend time with my great nephews, Samuel and Gracen.   They also enjoy treasure hunting, as we call it!
The car rides while geocaching were entertaining to say the least!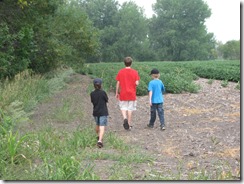 Our first cache near the cemetery…..and yep, they are going the WRONG way!
While geocaching we had the opportunity to check out a lot of parks around Aberdeen.   Geocaching is a great activity to do with energetic little boys.  Many caches are hid near parks, so we had plenty of time to play at each!  We were outside all day running and being loud.  Great Memories…..
We checked out the Brown County Fair – Tommy even went to his very first Rodeo!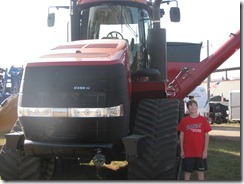 Our first time at Cherry Berry…….YUMMY!!!!  I decided that I really like Cherry Berry….and I have to locate the one closest to us in MN.
Random Pictures By Gracen and Samuel
Usually I have Random Pictures from Tommy….this week my great nephews are the photographers!
Most of these pictures are by Gracen (1st grade), he kept telling me he was the photographer.   This is just a small sample of his pictures!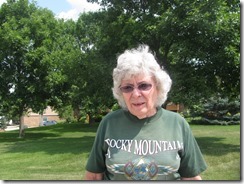 My mom is going to love this one!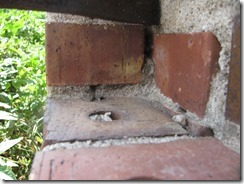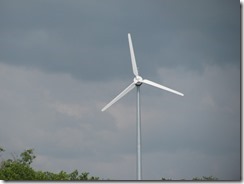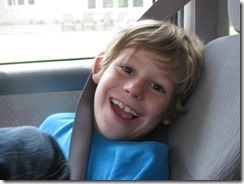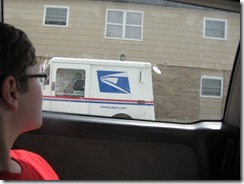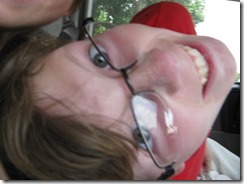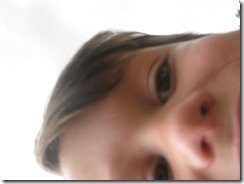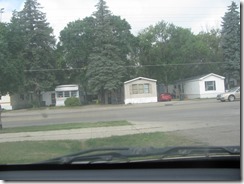 Yep, we were geocaching near the trailer park on Roosevelt.  Didn't find this one. But we played at the park!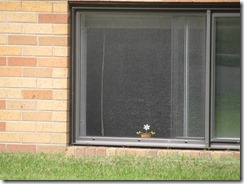 I thought I was going to get arrested for this picture.  I have to teach Gracen about zoom!   He really, really, really wanted a picture of the dancing flower in this apartment window.  Just like any good, little stalker he took about 5 pictures of these poor people's window to get the perfect shot of the dancing flower.  I can just see the headlines….weird lady in van with MN plates letting children take random pictures out the van!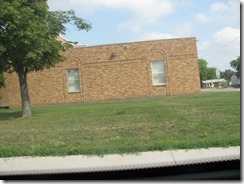 A quick shot as we drive by Gracen's school!
Our Adventures at Storybook Land: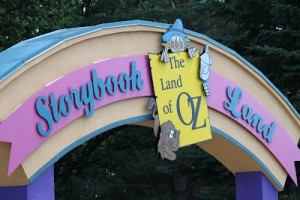 You can't go to Aberdeen, SD, without spending a day at Storybook Land!!  I thought this would surely tire the boys out….but I think it ended up tiring Grandma and I out more!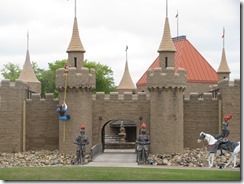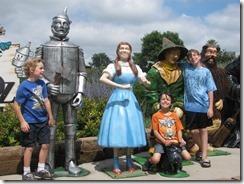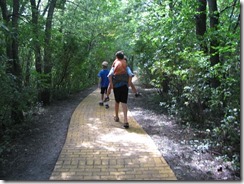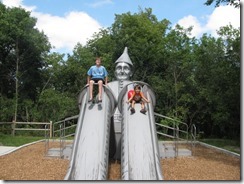 Off to see the Wizard….the wonderful Wizard of Oz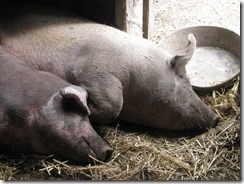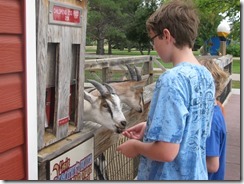 Visiting the Farm Animals…….we forgot to ride the tractor!  There will always be next year…..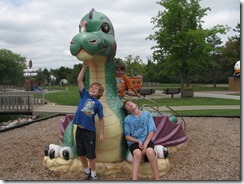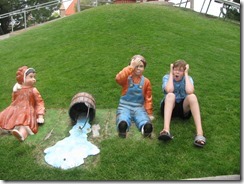 Lots of photo opportunities with the various Nursery Rhyme Characters!
My favorite part of my trip each year is getting to spend time with my favorite three guys!!  I can't wait until Mallory is old enough to join the fun! She wasn't too sure what to think of that goofy Auntie!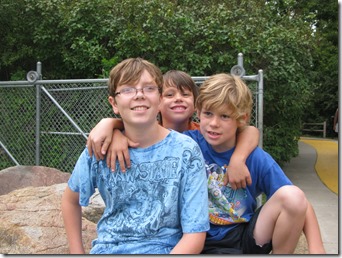 Tommy with Gracen and Samuel
The bonus this year was I was able to spend a little time with one of my brothers, Danny.  I really wish I could have spent more time with him.  He is an excellent geocaching partner…..though we need to get some taller friends to go with.  I come from a very short family, not good when trying to reach a cache in a tree!!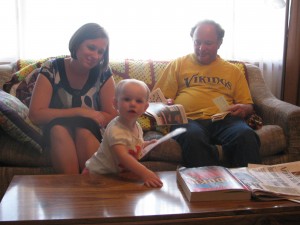 My niece Susan, her daughter Mallory and my brother, Danny!
Hope your week is filled with wonderful everyday and vacation moments with family and friends!  Make a point to capture your memories!
Blessings,