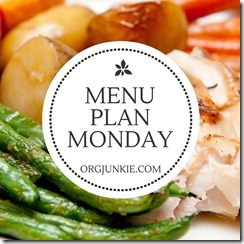 1/15/18 –
Monday-15th – Sheet Pan Fajitas (over rice) Mexican Rice ((week 2 Peace Love )
Tuesday – 16th – Almond Crusted Tilapia – Spaghetti Squash Au gratin with Bacon (week 2 Peace Love )
Wednesday 17th – Eggs Benedict Casserole
Thursday – 18th Seafood Salad –
Friday –19th – Taco Salad
Saturday – Birthday Celebration
Sunday – 20th –Slow Cooker Pork Roast – Garlic Parmesan Roasted Cauliflower (week 3 Peace Love )
Monday – 21st- Garlic Parmesan Chicken Thighs
Tuesday – 22nd –Spaghetti Squash Casserole
Wednesday – 23rd- Creamy Bacon Herb and Egg Skillet
Thursday – 24th -Soup
Friday – 25h -Hamburgers
Saturday – 26th – Cheesy Chicken Casserole (rotis)
Work Lunches – Kickin SLow Cooker Chili (week 1 Peace Love )
Breakfast – Pizza Frittata (menu) (pizza sauce)
Hardboiled Eggs
Crockpot Oatmeal – Tom and Grandpa's Favorite – trying this one this week. Maple and Brown Sugar Oatmeal.
Recipes to Try:
Skillet Chicken –
Sheet pan Italian Chicken
For more Menu Planning inspiration stop by and visit Laura at Organizing Junkie and participate in Menu Plan Monday.
Wishing you a wonderful week!!