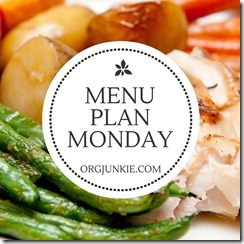 Friday – Mu Shu Chicken Wraps
https://www.familycircle.com/recipe/chicken/moo-shu-chicken/
Saturday – Black Bean Quesadillas:
Onions, red – 3/4, diced
Bell peppers, any color – 1 1/2, diced
Cilantro, fresh (opt) – 1 1/2 Tbsp, chopped
Beans, black (14 oz / 397 g) – 1 1/2 cans, drained and rinsed
Oil, cooking – 1 1/2 Tbsp
Chili powder – 1 1/2 tsp
Cumin, ground – 3/4 tsp
Salsa, store-bought (choose your fave) – 1 1/8 cups
Tortillas, flour and taco-sized – 18
Cheese, cheddar or Mexican blend – 9 oz, shredded
Sour cream, for serving – 3/8 cup
Make
Heat a saucepan over medium heat. Add oil and when hot, add onions and bell peppers and saute until tender, ~3 minutes. Add chili powder and cumin and saute until fragrant, ~1 minute. Add black beans and salsa and simmer until any extra moisture is cooked off, 2 to 3 minutes. Take pan off the heat and stir in cilantro (the portion for the quesadillas). Season with some salt and pepper.
Heat a nonstick frying pan over medium heat. Place a tortilla in the pan, top it with a heaping spoonful of filling, cheese and then another tortilla. When the tortilla on the bottom is golden brown and crisp, flip the quesadilla and cook on the other side until golden brown and crisp. Continue with the remaining tortillas and filling. (Note: As written, the recipe makes 1.5 quesadillas per person.)
Slice quesadillas into wedges and serve with guacamole, sour cream and extra salsa. Enjoy!
Sunday – Christmas Eve – Lasagna Roll Ups, Salad and Garlic Bread
· spaghetti sauce (your choice)
· 1 lb mozzarella cheese
· 15 ounces ricotta cheese
· parmesan cheese
· 1 (16 ounce) bag frozen spinach, rinsed and squeezed out
· 1 egg
· lasagna noodle
cook lasagna noodles about 2-5 min shorter than the time it says (they are easier to handle then) mix all together in a bowl.
Grated mozzarella cheese, ricotta cheese, frozen spinach, and the egg.
Add some Parmesan cheese.
lay out lasagna noodles, spread the cheese mixture.
then add sauce.
roll lasagna noodle, place in a 13 x 9 in pan (this will hold about 12 roll ups) keep doing this until your pan is full.
then spread more sauce and Parmesan cheese on top.
When it is time to bake take out the sauce and the roll ups as many as you need.
Bake 350 oven for 40 min (if thawed) or until cheese is melted
Monday- Christmas – Turkey, Mashed Potatoes Salad, Stove Top (Amy Bringing Green Beans, Cauliflower Side)
Tuesday –Turkey Wild Rice Soup
Wednesday- Leftovers
Thursday – Creamy Swiss Chicken Over Rice or Cauliflower Rice
Friday- Hamuburgers
Saturday- Country Meatloaf, Butternut Squash and Mashed Potatoes
For more Menu Planning inspiration stop by and visit Laura at Organizing Junkie and participate in Menu Plan Monday.
Wishing you a wonderful week!!