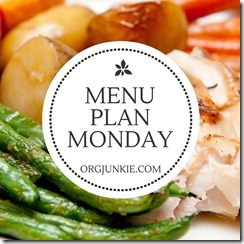 6/4/17-6/11/17
Sunday 4th – Classic Cobb Salad
½ head iceberg lettuce, shredded
½ head romaine lettuce, chopped
1 portion reserved shredded chicken
2 oz blue cheese, crumbled
2 hard-boiled eggs,
diced 6 strips bacon, cooked
2 tomatoes, diced
1 avocado, diced
salt & pepper to taste
2 green onions, sliced

1. On a large platter, combine the iceberg and romaine lettuces. Arrange the blue cheese, bacon, eggs, tomatoes, chicken, and avocado on top of the greens in neat rows. 2. To serve, drizzle salad with dressing, season with salt and pepper, and top with chives. Alternatively, toss everything together in a bowl.
Monday – BLT Sandwich with Fruit
Tuesday– Easy Spaghetti Carbonara – Made with Gluten Free Noodles
Wednesday – Eggs Benedict Casserole with Sauce
Thursday – Sheet Pan Garlic Shrimp – Rice – Green Beans
Friday – Grilled Hotdogs – Chili
Saturday – Old Bay Baked Crusted Salmon – Salad and Grilled Pineapple – Treehouse
Sunday – Grilled Chicken with Savory Summer Vegetables – Zucchini Oven Chips – Treehouse
BREAKFAST
Potato & Egg Burritos
Blueberry Muffins
LUNCH
Strawberry, Feta & Almond Salad :
2 tsp Dijon mustard
1 tsp honey
¼ red onion, minced
2 Tbsp apple cider vinegar ⅓ cup olive oil salt & pepper
4 oz spinach ½ head iceberg lettuce, chopped
4 oz feta cheese, crumbled
1 quart strawberries, hulled— small berries halved, large ones quartered
1 cup almonds, chopped

1. In a small bowl, stir together the mustard, honey, onion and vinegar. Stir in the olive oil and season with salt and pepper. 2. Put the spinach & lettuce in a large bowl. Add the strawberries, feta and almonds.
Avocado Tuna Salad
For more Menu Planning inspiration stop by and visit Laura at Organizing Junkie and participate in Menu Plan Monday.
Wishing you a wonderful week!!