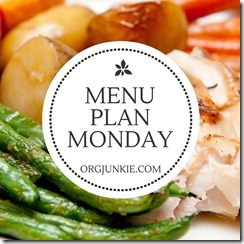 4/2/17 – 4/9/17
Sunday, April 2nd – Ham & Scalloped Potatoes , Baked Spaghetti Squash
Monday, 3rd – Avocado Chicken Ranch Wrap
Tuesday, 4th – Ham and Cheese Frittata
Wednesday, 5th – Beef Enchiladas – Spanish Rice
EASY BEEF ENCHILADAS (What's For Dinner Site)
2 cups cooked, ground beef
2 10 oz cans Enchilada Sauce
1 1/2 cups shredded cheese (I use Kraft 2% milk cheddar)
1 12 ct. pkg. flour tortillas
Directions
1. Heat oven to 375 degrees F. Heat chicken, 3/4 cup enchilada sauce, and 1 cup cheese in skillet until warmed through and cheese is melted.
2. Spoon enchilada filling onto tortillas; roll up and place seam-side down in lightly greased 13x9x2 baking dish.
3. Pour remaining enchilada sauce over top; sprinkle with remaining 1/2 cup cheese. Bake at 375 for 15-20 minutes.
Thursday, 6th – French Dip Sandwiches
3-4 lb. roast
2 tbsp. yellow mustard
1 package onion soup mix
French rolls
Place meat in slow cooker, cover with mustard and sprinkle with onion soup mix. Cover and cook on low for 8-12 hours (depending on how hot your slow cooker cooks). When fully cooked, carve into thick slices or shred. Strain broth and skim fat if desired. Serve meat on French rolls with juice in small bowls or saucers for dipping
Friday, 7th – Mom's Mac and Cheese – Sausage
1-1/2 cups uncooked elbow macaroni
5 tablespoons butter or margarine, divided
3 tablespoons all-purpose flour
1-1/2 cups milk
1 cup (4 ounces) shredded cheddar cheese
2 ounces process American cheese, cubed
½ teaspoon salt
¼ teaspoon pepper
2 tablespoons dry bread crumbs
Cook macaroni according to package directions; drain. Place in greased
1-1/2 qt. baking dish; set aside. In a saucepan, melt 4 tablespoons of
butter over medium heat. Stir in flour until smooth. Gradually add
milk; bring to a boil. Cook and stir for 2 minutes; reduce heat. Stir
in cheese, salt and pepper until cheese is melted. Pour over macaroni;
mix well. Melt the remaining butter; add the breadcrumbs. Sprinkle
over casserole. Bake, uncovered, at 375 degrees for 30 minutes.
Yield : 6 Servings
Saturday, 8th – Beef Stroganoff
Beef Stroganoff
1 lb ground beef
8 oz sour cream
1 can cream of mushroom soup
(1 t salt, 1 t onion powder)
(¼ c water, 1 t beef bouillon cube)
1 pkg egg noodles
1 pkg frozen peas
In large skillet, brown the ground beef; drain. Add sour cream, soup, salt, onion powder and water to skillet. Heat to a low boil; add bouillon. Stir to dissolve; reduce heat to simmer.
Boil noodles while preparing meat mixture. Serve stroganoff over cooked noodles. Serve with steamed peas
Sunday, 9th – Slow Cooker Chicken Chili
For more Menu Planning inspiration stop by and visit Laura at Organizing Junkie and participate in Menu Plan Monday.
Need help getting started menu planning – Emeals is also great solution. Many meal plans to chose from at a very affordable price.
Wishing you a wonderful week!!