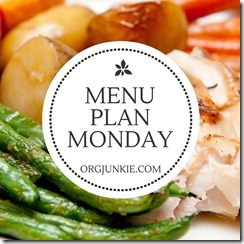 3/19/17 – 4/2/17
WEEK #1
Sunday, 19th – Pork Chops and Cabbage
Monday, 6th – Garlic Chicken (Crockpot) – Loaded Cauliflower Bake – Corn
Tuesday, 21st – Spaghetti
Wednesday, 22nd – Vegetable Beef and Rice Soup
Thursday, 23rd – Slow Cooker Garlic Chicken Drumstick
Friday, 24th – Seafood Salad
Saturday, 25th – Balsamic Pork Chops with Roasted Vegetables
Sunday, 26th – BAKED TERIYAKI CHICKEN * Liked by everyone! Another Restaurant meal according to hubby! – Fried Rice and Peas
INGREDIENTS
1 tablespoon cornstarch
1 tablespoon cold water
1/2 cup white sugar
1/2 cup soy sauce
1/4 cup cider vinegar
1 clove garlic, minced
1/2 teaspoon ground ginger
1/4 teaspoon ground black pepper
12 skinless chicken thighs
DIRECTIONS
In a small saucepan over low heat, combine the cornstarch, cold water, sugar, soy sauce, vinegar, garlic, ginger and ground black pepper. Let simmer, stirring frequently, until sauce thickens and bubbles.
Preheat oven to 425 degrees F (220 degrees C).
Place chicken pieces in a lightly greased 9×13 inch baking dish. Brush chicken with the sauce. Turn pieces over, and brush again.
Bake in the preheated oven for 30 minutes. Turn pieces over, and bake for another 30 minutes, until no longer pink and juices run clear. Brush with sauce every 10 minutes during cooking.
WEEK #2
Monday 27th – Creamy Spaghetti Bake
Tuesday, 28th – Honey Garlic Pork Chops – Rice and Veggie
Wednesday, 29th – – Slow Cooker Chicken Chili
Thursday, 30th – – Ham and Cheese Frittata
Friday, 31st – Fish and Chips
Saturday, April 1st – French Dip Sandwiches
Sunday, April 2nd – Ham & Scalloped Potatoes
For more Menu Planning inspiration stop by and visit Laura at Organizing Junkie and participate in Menu Plan Monday.
Need help getting started menu planning – Emeals is also great solution. Many meal plans to chose from at a very affordable price.
Wishing you a wonderful week!!