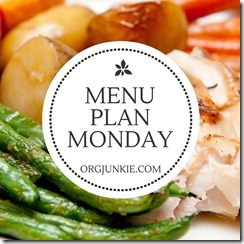 1/16/17 – 1/30/17
Finally, a real menu….trying to get back on track with our routine after the holidays. We decided to do a freezer challenge as we have so much chicken, purchased on sale. I hope I have enough variety so my family doesn't revolt when I put chicken on the table again! Welcome to Chicken Week!
Monday, 16th – Cheese Ravioli with Pesto and Grilled Chicken
Tuesday, 17th – Chicken Salad Sandwiches and Pasta Salad
Wednesday, 18th –Shake and Bake Chicken Legs, Rice Dish and Veggie
Thursday, 19th – Sheet Pan Dinner – smoked sausage and seasoned potato wedges – 45 Minutes
Friday, 20th – Hotdogs and Fries
Saturday, 21st – Cream Chicken Pesto Pasta
Sunday, 22nd – BAKED TERIYAKI CHICKEN * Liked by everyone! Another Restaurant meal according to hubby! Asian flavored quinoa – Fresh 20 December 30th
INGREDIENTS
1 tablespoon cornstarch
1 tablespoon cold water
1/2 cup white sugar
1/2 cup soy sauce
1/4 cup cider vinegar
1 clove garlic, minced
1/2 teaspoon ground ginger
1/4 teaspoon ground black pepper
12 skinless chicken thighs
DIRECTIONS
In a small saucepan over low heat, combine the cornstarch, cold water, sugar, soy sauce, vinegar, garlic, ginger and ground black pepper. Let simmer, stirring frequently, until sauce thickens and bubbles.
Preheat oven to 425 degrees F (220 degrees C).
Place chicken pieces in a lightly greased 9×13 inch baking dish. Brush chicken with the sauce. Turn pieces over, and brush again.
Bake in the preheated oven for 30 minutes. Turn pieces over, and bake for another 30 minutes, until no longer pink and juices run clear. Brush with sauce every 10 minutes during cooking.
Monday, 23rd – Bubble and Squeak
Tuesday, 24th – Garlic Chicken (Crockpot) – Mashed Potatoes – Corn
Wednesday, 25th – Soup and Grilled Cheese Sandwiches or Left overs
Thursday, 26th – Shake and Bake Chicken Legs, Rice Dish and Veggie
Friday, 27th – Cod Fillet and Fries
Saturday, 28th – Maple Balsamic Chicken Sheet Pan Meal –
Sunday, 29th – Turkey Breast, (Crockpot) Mashed Potatoes and Green Beans
Monday, 30th – Cheesy Turkey and Rice Casserole
For more Menu Planning inspiration stop by and visit Laura at Organizing Junkie and participate in Menu Plan Monday.
Wishing you a wonderful week!!