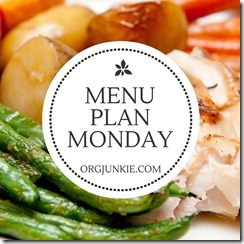 12/31/16 – 1/8/16
Saturday- New Years Eve – Chopped Antipasto Salad, Onion Rings with Dip and Chicken Wings
New Years Day – Crab Legs, Rice pilaf and vegetables
Monday – Cheese Broccoli Soup
Tuesday – (soccer Practice) Shake and Bake Chicken –Hashbrown Casserole (TOH Big Book Pg 665)
Wednesday – (Mom Works Late) Easy Chicken & Rice Casserole
Chicken breasts
1 cup rice
1 can your choice cream of … soup
1 packet Italian seasoning mix
2 cups boiling water
Salt & pepper, or your favorite seasonings
Mix soup, rice and Italian Seasoning with 2 cups boiling water.
Pour into a 9 x 13 baking pan, place Chicken on top and sprinkle with paprika.
Cover with foil and bake for 1 hour and 20 minutes. Put in oven at 350.
Thursday – Asian Chicken Cranberry Salad http://reluctantentertainer.com/asian-chicken-cranberry-salad/
Friday – Easy Chicken Chili
Saturday – MEATLOAF sweet potatoes & green beans -Fresh 20 –Dec 23rd
Sunday – BAKED TERIYAKI CHICKEN * Liked by everyone! Another Restaurant meal according to hubby! Asian flavored quinoa – Fresh 20 December 30th
INGREDIENTS
1 tablespoon cornstarch
1 tablespoon cold water
1/2 cup white sugar
1/2 cup soy sauce
1/4 cup cider vinegar
1 clove garlic, minced
1/2 teaspoon ground ginger
1/4 teaspoon ground black pepper
12 skinless chicken thighs
DIRECTIONS
In a small saucepan over low heat, combine the cornstarch, cold water, sugar, soy sauce, vinegar, garlic, ginger and ground black pepper. Let simmer, stirring frequently, until sauce thickens and bubbles.
Preheat oven to 425 degrees F (220 degrees C).
Place chicken pieces in a lightly greased 9×13 inch baking dish. Brush chicken with the sauce. Turn pieces over, and brush again.
Bake in the preheated oven for 30 minutes. Turn pieces over, and bake for another 30 minutes, until no longer pink and juices run clear. Brush with sauce every 10 minutes during cooking.
Future Meal-
Tex Mex Mac and Cheese http://www.thebusybaker.ca/2015/12/skinny-tex-mex-mac-and-cheese-skillet.html
Pesto Chicken, Baked Potato and Veggie