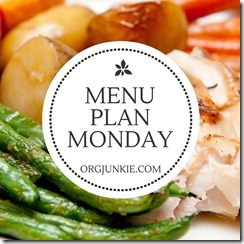 10/29/16 – 11/06/16
Saturday – Lasagna Roll Ups , Green Beans, Salad (Fresh 20 GF October 9, 2015 ), Garlic Bread
· spaghetti sauce (your choice)
· 1 lb mozzarella cheese
· 15 ounces ricotta cheese
· 1 (16 ounce) bag frozen spinach, rinsed and squeezed out
· 1 egg
· lasagna noodle
cook lasagna noodles about 2-5 min shorter than the time it says (they are easier to handle then) mix all together in a bowl.
Grated mozzarella cheese, ricotta cheese, frozen spinach, and the egg.
Add some Parmesan cheese.
lay out lasagna noodles, spread the cheese mixture.
then add sauce.
roll lasagna noodle, place in a 13 x 9 in pan (this will hold about 12 roll ups) keep doing this until your pan is full.
then spread more sauce and Parmesan cheese on top.
When it is time to bake take out the sauce and the roll ups as many as you need.
Bake 350 oven for 40 min (if thawed) or until cheese is melted
Sunday – Tommy's Birthday Meal – Panera Broccoli and Cheese Soup – Turkey Focaccia Club Sandwiches (Simple & Delicious: Oct/Nov 2013 – pg 21) and Oreo Fudge Ice Cream Cake
Monday – Squirmy Wormy Sandwiches and Chips
Tuesday – Chicken and Broccoli Stir Fry x 2
Wednesday – Chicken and Rice Soup (crockpot)
Thursday – Beef Enchiladas and Spanish Rice
EASY BEEF ENCHILADAS (What's For Dinner Site)
Ingredients
2 cups cooked, ground beef
2 10 oz cans Enchilada Sauce
1 1/2 cups shredded cheese (I use Kraft 2% milk cheddar)
1 12 ct. pkg. flour tortillas
Directions
1. Heat oven to 375 degrees F. Heat chicken, 3/4 cup enchilada sauce, and 1 cup cheese in skillet until warmed through and cheese is melted.
2. Spoon enchilada filling onto tortillas; roll up and place seam-side down in lightly greased 13x9x2 baking dish.
3. Pour remaining enchilada sauce over top; sprinkle with remaining 1/2 cup cheese. Bake at 375 for 15-20 minutes.
Friday – Black Bean Quesadillas:
Onions, red – 3/4, diced
Bell peppers, any color – 1 1/2, diced
Cilantro, fresh (opt) – 1 1/2 Tbsp, chopped
Beans, black (14 oz / 397 g) – 1 1/2 cans, drained and rinsed
Oil, cooking – 1 1/2 Tbsp
Chili powder – 1 1/2 tsp
Cumin, ground – 3/4 tsp
Salsa, store-bought (choose your fave) – 1 1/8 cups
Tortillas, flour and taco-sized – 18
Cheese, cheddar or Mexican blend – 9 oz, shredded
Sour cream, for serving – 3/8 cup
Heat a saucepan over medium heat. Add oil and when hot, add onions and bell peppers and saute until tender, ~3 minutes. Add chili powder and cumin and saute until fragrant, ~1 minute. Add black beans and salsa and simmer until any extra moisture is cooked off, 2 to 3 minutes. Take pan off the heat and stir in cilantro (the portion for the quesadillas). Season with some salt and pepper.
Heat a nonstick frying pan over medium heat. Place a tortilla in the pan, top it with a heaping spoonful of filling, cheese and then another tortilla. When the tortilla on the bottom is golden brown and crisp, flip the quesadilla and cook on the other side until golden brown and crisp. Continue with the remaining tortillas and filling. (Note: As written, the recipe makes 1.5 quesadillas per person.)
Slice quesadillas into wedges and serve with guacamole, sour cream and extra salsa. Enjoy!
Saturday- Baked Teriyaki Chicken, Mom's Mac and Cheese
1-1/2 cups uncooked elbow macaroni
5 tablespoons butter or margarine, divided
3 tablespoons all-purpose flour
1-1/2 cups milk
1 cup (4 ounces) shredded cheddar cheese
2 ounces process American cheese, cubed
½ teaspoon salt
¼ teaspoon pepper
2 tablespoons dry bread crumbs
Cook macaroni according to package directions; drain. Place in greased
1-1/2 qt. baking dish; set aside. In a saucepan, melt 4 tablespoons of
butter over medium heat. Stir in flour until smooth. Gradually add
milk; bring to a boil. Cook and stir for 2 minutes; reduce heat. Stir
in cheese, salt and pepper until cheese is melted. Pour over macaroni;
mix well. Melt the remaining butter; add the breadcrumbs. Sprinkle
over casserole. Bake, uncovered, at 375 degrees for 30 minutes.
Yield : 6 Servings
Sunday – Chili and Corn Bread
Makes 6-8 servings
Prep Time: 25 minutes
Cooking Time: 6 hours
1 lb. ground beef or turkey
2 – 15-oz. cans tomato sauce
2 – 15-oz. cans kidney bens or black beans, drained
1 envelope dry chili seasoning
15-oz can of water, or more or less
Brown ground beef or turkey in a non-stick skillet. Drain
Combine all ingredients in the slow cooker.
Cover and cook on Low for 6 hours.
** Fix-It and Forget-It – 5 Ingredient Favorites
Work Lunch for Week: Panera Copycat Autumn Soup and Salad
Snack: Snap Peas and Hummus
Breakfast: Broccoli and Cheddar Egg Bake
The Fresh 20 is a 5 day meal plan. They offer the following menus: Gluten Free, Dairy Free, Classic, Vegetarian, For One, Kosher and Lunch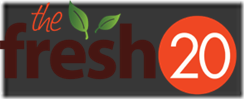 For more Menu Planning inspiration stop by and visit Laura at Organizing Junkie and participate in Menu Plan Monday.
Need help getting started menu planning – Emeals is also great solution. Many meal plans to chose from at a very affordable price.
Wishing you a wonderful week!!