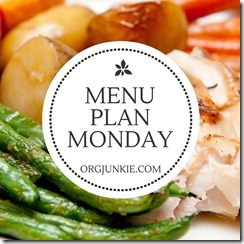 9/18/16 – 10/1/16
Fall is upon us and our schedules just became much busier. Tommy has school, soccer, confirmation and homework. We in addition to monitoring Tommy's activities have classes at Church on Tuesday and Wednesday nights as well. I am going to need to rely on crockpot meals for Tuesdays and Wednesdays for the next 9 weeks. The first weeks of school we have not had as healthy meals as I would like. We even ate out a few times. We can't keep that up as we are trying to become debt free!! Time to get back to following my menu and doing food prep ahead of time! Hope you are off to a wonderful fall season. I sure love fall meals….so easy to put soup into the crockpot for a quick meal.
Sunday, 18th – Chicken Enchilada Pasta (Skillet Meal) Family Favorite!
Monday, 19th – Best Pork Chops​- Bacon Ranch Pasta Salad
Marinade: (2 hours)
1/2 cup water
1/3 cup Soy Sauce
1/4 cup Worchestershire Sauce
1/3 cup EV Olive Oil
1 heaping tablespoon of chopped garlic
'bout 10 Basil leaves chopped into ribbons
Saturday
Oil the grill with some olive oil, then crank it so it hits like 450-500 degrees. (You don't have to, but I threw on a cedar plank and got it smoking during this time before I put the chops on) Put the chops on and turn down the grill so it stays around 350 for the rest of the time. Close lid. (On our grill this means turn it down to about half-power for all of the burners) Grill 2 minutes, then turn (not flip, just turn), them a quarter turn and grill 2 more minutes on the same side. Close lid. Then flip and grill 2 minutes, (close lid) and then turn them a quarter turn and grill for 2 more minutes. Close lid… (8 minutes total, 4-minutes each side). Remove to a plate, wrap it all up with foil and let them rest for 5 minutes. There you go.
Tuesday, 20th – Unstuffed Cabbage Roll Soup
Wednesday, 21st – Rotisserie Chicken (crockpot) – Broccoli Slaw
Thursday, 22nd – Chicken Sausage and Zucchini Fritter with Avocado Dill Dip
Friday, 23rd – French Bread Pizza
Saturday, 24th – Baked Teriyaki Chicken, Mac and Cheese and Corn
Sunday, 25th – Birthday Celebration – Beef Enchiladas and Spanish Rice and Mexican Corn
Monday, 26th- Chicken and Broccoli Stir Fry x 2
Tuesday, 27th – BEEF BARLEY SOUP
1 lb ground beef, browned
6 cups water
32 ounces canned tomatoes, stewed, crushed or whole
3 cups sliced carrots
1 cup diced celery
1 cup diced potatoes
1 cup diced onions
3/4 cup quick-cooking barley
3 tsp. beef bouillon granules, or 3 beef bouillon cubes
2 -3 tsp. salt
¼ tsp. pepper
Combine all ingredients in slow cooker.
Cover. Cook on low 8-10 hours or high 4 -5 hours.
Serve with fresh bread and cheese cubes.
Wednesday, 28th – Best Slow Cooker Beef Stew
Thursday, 29th – French Toast
Friday, 30th – Chicken Philly Sandwiches with arugula and plum side salad – CookSmarts 8/22/16
Saturday, Oct. 1st – Harvest Sheet Pan Chicken
Sunday, Oct. 2nd – Swiss Steak, Mashed Potatoes and Corn
Future Crock Pot Recipes:
Tuscan White Bean Sausage Soup
Mexican Chicken Soup
Slow Cooked Balsamic Caprese Stuffed Chicken Thighs
The Fresh 20 is a 5 day meal plan. They offer the following menus: Gluten Free, Dairy Free, Classic, Vegetarian, For One, Kosher and Lunch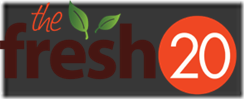 For more Menu Planning inspiration stop by and visit Laura at Organizing Junkie and participate in Menu Plan Monday.
Need help getting started menu planning – Emeals is also great solution. Many meal plans to chose from at a very affordable price.
Wishing you a wonderful week!!