M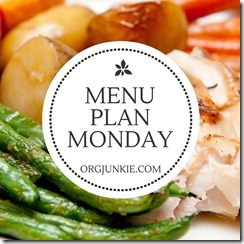 9/4/16 – 9/18/16
4th – Sunday – Chicken Drumsticks , French Fries, Corn and Beans
5th – Monday – Best Pork Chops​- Bacon Ranch Pasta Salad
Marinade: (2 hours)
1/2 cup water
1/3 cup Soy Sauce
1/4 cup Worchestershire Sauce
1/3 cup EV Olive Oil
1 heaping tablespoon of chopped garlic
'bout 10 Basil leaves chopped into ribbons
Saturday
Oil the grill with some olive oil, then crank it so it hits like 450-500 degrees. (You don't have to, but I threw on a cedar plank and got it smoking during this time before I put the chops on) Put the chops on and turn down the grill so it stays around 350 for the rest of the time. Close lid. (On our grill this means turn it down to about half-power for all of the burners) Grill 2 minutes, then turn (not flip, just turn), them a quarter turn and grill 2 more minutes on the same side. Close lid. Then flip and grill 2 minutes, (close lid) and then turn them a quarter turn and grill for 2 more minutes. Close lid… (8 minutes total, 4-minutes each side). Remove to a plate, wrap it all up with foil and let them rest for 5 minutes. There you go.
6th – Tuesday – SOCCER GAME (Bake Cookies and Bars for Soccer Dinner)
7th – Wednesday – 20 Minute Skillet Lasagna – Soccer Dinner
8th – Thursday – Roast with Vegetables (Parents Night At North Campus)
9th – Friday – Hotdogs, Chili and Curly Fries
10th –Saturday – Beer in the rear Chicken, Baked Potato and Beans
11th – Sunday – Stuffed Pesto Chicken with white bean salad CookSmarts 9/15/16
12th – Monday- Chicken Bacon Ranch Wraps – Fruit
13th –Tuesday – Soccer Game – Legacy – Crock Pot Soup
1 lb ground beef, browned
6 cups water
32 ounces canned tomatoes, stewed, crushed or whole
3 cups sliced carrots
1 cup diced celery
1 cup diced potatoes
1 cup diced onions
3/4 cup quick-cooking barley
3 tsp. beef bouillon granules, or 3 beef bouillon cubes
2 -3 tsp. salt
¼ tsp. pepper
Combine all ingredients in slow cooker.
Cover. Cook on low 8-10 hours or high 4 -5 hours.
Serve with fresh bread and cheese cubes.
***FIX IT AND FORGET IT RECIPES for ENTERTAINING
14th – Wednesday – FPU – Chicken Enchilada Pasta (Skillet Meal)
15th – Thursday – Soccer Game- Hamburgers and Tater Tots
16th –Friday – Chicken Philly Sandwiches with arugula and plum side salad – CookSmarts 8/22/16
17th – Saturday – Summer Pasta Soup with pesto / white beans – CookSmarts 9/15/16
18th – Sunday – – Baked Teriyaki Chicken, Mac and Cheese and Corn