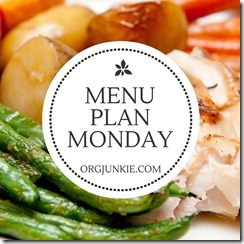 6/13/16 – 6/26/16
MONDAY – CHICKEN BEAN SOUP (Fresh 20 GF, May 20, 2016)
Tuesday,14th – Tater Tot Casserole
1 lb ground turkey cooked, seasoned, drained
2lb bags tater tots
1 can cream of mushroom
1 can evaporated milk
1 can cream of chicken
Brown meat & place in large cass. dish.
Cover with tater tots. Mix soup & milk together.
Pour over top. Bake at 350 for 1 Hour.
(One of Daddy's Favorites!) Makes 1- 9"X13" pans
Add Mixed Veggies to meat before doing rest of recipe
Wednesday, 15th – Soup and Grilled Pesto Ham and Provolone Sandwiches (Taste of Home Simple/D – April/May 2015- Pg 19)
Thursday, 16th – Pancakes and Sausage
Friday, 17th- Hamburgers – Old Fashioned Mac and Pea Salad
Saturday, 18th – Pesto Caprese Chicken, Salad
Sunday, 19th – Fried Chicken , Red Potato Salad Dijon (S&D – April/May 2014 – pg 35), Corn on the Cob
Monday, 20th – Chicken Salad Sandwiches
Tuesday, 21st – Spaghetti and meatballs
Wednesday, 22nd – 20-Minute Ground Beef Tacos and Corn
Thursday, 23rd – SAUSAGE RICE CASSEROLE
2 packages (7.2 ounces each) rice pilaf mix
2 pounds bulk pork sausage
6 celery ribs, chopped
4 medium carrots, chopped
1 can (10-3/4 ounces) condensed cream of chicken soup, undiluted
1 can (10-3/4 ounces) condensed cream of mushroom soup, undiluted
2 teaspoons onion powder
½ teaspoon garlic powder
¼ teaspoon pepper
Prepared rice mixes according to package directions. Meanwhile, in a large skillet, cook sausage, celery and carrots over medium heat until meat is no longer pink; drain. In a large bowl, combine the sausage mixture, rice mixture and the remaining ingredients. Transfer to two greased 11-in x 7-in, x 2-in. baking dishes.
Cover and bake one casserole at 350 degrees for 40-45 minutes or until the vegetables are tender. Cover and freeze remaining casserole for up to 3 months. YIELD: 2 casserole (6-8 servings each)
Friday, 24th – PECAN CHICKEN TENDERS with HONEY MUSTARD Corn & Kale Sauté and Strawberries (Fresh 20 GF, May 20, 2016)
Saturday, 25th – Balsamic Pork Chops with Roasted Vegetables
Sunday,26th – GONE CAMPING
– Baked Herb and Garlic Drumsticks – baked potatoes and carrots
– Chicken Noodle Casserole with your favorite vegetable
Wishing you a wonderful week!!