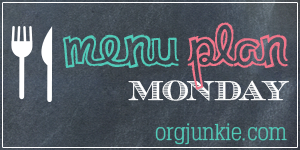 January 16th – 31st, 2016
Hello from frigid Minnesota! BRRRR! It is –2 today, but with wind chill factored in it is –21. Not a great day to go grocery shopping, but we have to. It has been two weeks since last shopping and we are out of a lot of things! It never fails it is always freezing cold around my birthday! There are a lot of carry over meals from our last menu. As you can see, I didn't do great with the second week of our menu. I was working some extra hours at home to get caught up on some projects and that really cut into my evening prep time. I usually would prep in the morning, but I was sleeping in and not having enough time to get things ready. Hopefully I will be back on track now. Menu planning sure does save us from eating fast food, but does take some planning. Hope you are staying warm and having a great weekend.
Some Favorite Meals from Last Menu:
Creamy Chicken Wild Rice Soup (use left over rice from previous night)
Chicken and Bacon Caesar Wraps – Chips – Grapes
Our Two – Week Menu:
Saturday, 16th – Tomato Soup with Grilled Cheese Croutons
Sunday, 17th – Paul cooking for my birthday!
Monday, 18th- (soccer) No Peek Beef Tips over Mashed Potatoes (oven 2-1/2 to 3 hours) and carrots
Tuesday, 19th – (FPU) (4) CHICKEN CHILI (Fresh January 1st, 2016)
Wednesday, 20th – POT ROAST, persimmon & endive salad – #5 (Fresh Dec. 18, 2015)
Thursday,21st – (soccer) Mexican Casserole (Fresh 20 –11/13/15)
Friday, 22nd – French Bread Pizza
Saturday, 23rd- Slow Cooked French Onion Soup (8 Hours) – (Eating Well – Jan/Feb 2016 – pg 48)
Sunday, 24th – Simple Brown Sugar & Mustard Pork Tenderloin – pg 66, Baked Potato and Brown Butter Pea Amandine ((Eating Well – Jan/Feb 2016 – pg 45)
Monday,25th – (soccer) – SHRIMP SCAMPI and spinach rice (Fresh January 15th, 2016)
Tuesday, 26th – (FPU) – BEEF STIR-FRY brown rice (Fresh January 15th, 2016)
Wednesday, 27th – HAM AND BROCCOLI SOUP spinach salad (Fresh January 15th, 2016)
Thursday,28th – (soccer) – Chicken Enchilada Pasta
Friday, 29th – Fish Sandwiches and Fries
Saturday, 30th – Chicken, Rutabaga Fries, Broccoli (Fresh December 25th, 2015)
Sunday, 31st – Herb and Garlic Roasted Chicken , Stuffing, Green Beans
Next Menu:
The Fresh 20 is a 5 day meal plan. They offer the following menus: Gluten Free, Dairy Free, Classic, Vegetarian, For One, Kosher and Lunch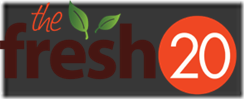 For more Menu Planning inspiration stop by and visit Laura at Organizing Junkie and participate in Menu Plan Monday.
Need help getting started menu planning – Emeals is also great solution. Many meal plans to chose from at a very affordable price.
Stay warm and have a wonderful weekend. Perfect weekend to curl up with a book and hot cocoa!