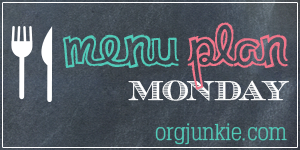 November 23rd – Dec 6th, 2015
Saturday, 21st – VERSATILE SLOW-COOKER CHILI
Makes 6-8 servings
Prep Time: 25 minutes
Cooking Time: 6 hours
1 lb. ground beef or turkey
2 – 15-oz. cans tomato sauce
2 – 15-oz. cans kidney beans or black beans, drained
1 envelope dry chili seasoning
15-oz can of water, or more or less
Brown ground beef or turkey in a non-stick skillet. Drain
Combine all ingredients in the slow cooker.
Cover and cook on Low for 6 hours.
** Fix-It and Forget-It – 5 Ingredient Favorites
Sunday, 22nd – The Best Chicken & Dumplings (pg 75)
Monday 23rd – Beef Fajita Bowl (Fresh 20 –11/13/15)
Tuesday 24th – Ginger Beef and Broccoli with Brown Rice (Fresh 20 –11/13/15)
Wednesday 25th – (Thanksgiving Eve Service) Mexican Pizza /Chips and Salsa/ Grapes (Emeals A – 553)Thursday, 26th – (Thanksgiving)
Simple Turkey / Herb Butter
1 14-15 pound turkey
1 stick margarine, softened
Bay leaves
Adobo, to taste
1 carrot, chunked
1 stalk celery, chunked
1 onion, quartered
1 green apple, quartered
½ C. water
Heat oven to 500 degrees. Wash the turkey and pat dry (save the bags of parts for your gravy). In the turkey cavity place all your vegetables. Separate the skin carefully from the turkey and place bay leaves and slices of half of the margarine under the skin. Rub the outside of the turkey with the rest of the margarine. Season to taste with adobo. Place turkey breast side up in a roasting pan. Put water in pan around the bird not over, you don't want to wash away the margarine or seasoning. Cover turkey tightly with foil, removing the foil about 1 hour before turkey is done to brown the skin. Cook turkey at 500 degrees for 30 minutes, turn oven down to 325 and cook for 3-4 hours or until done, a meat thermometer inserted into the thigh without touching the bone should read 180 degrees when bird is fully cooked. Let turkey rest for 30 minutes before serving.
Stuffing-Dressed Up
2 boxes of stuffing mix like Stove top
1 huge onion, sautéed
4 stalks celery, sautéed
1 lb. sausage, cooked
Prepare stuffing according to package directions, before serving stir in other ingredients.
Green Bean Casserole x 2
Prep Time: 10 minutes Cooke Time: 30 minutes Serves 6
1 can (10 ¾ oz) Cream of Mushroom Soup
½ cup milk
1 tsp soy sauce
dash of pepper
4 cups cooked cut green beans or canned
1-1/3 cups French Fried Onions
Mix soup, milk, soy sauce, pepper, beans and 2/3 cups onions in 1 ½ qt. Casserole.
Bake at 350 degrees for 25 minutes or until hot.
Stir. Sprinkle with remaining onions. Bake 5 minutes.
Dinner Rolls
Cranberry Caramelized Onion Sauce
Ingredients
1 Tbs. vegetable or canola oil
1 large yellow onion, cut into medium dice
Kosher salt and freshly ground black pepper
One 12-oz. bag fresh or thawed frozen cranberries, rinsed and picked over (3-1/2 cups)
1 cup granulated sugar
Directions
In a 10-inch straight-sided sauté pan or skillet, heat the oil over medium heat. Add the onions, a pinch of salt, and a grind or two of pepper. Reduce the heat to low, cover, and cook, stirring occasionally, until the onions are golden-brown and very soft, 20 to 25 minutes. Remove the lid, increase the heat to medium high, and cook the onions, stirring often, until deep caramel-brown, an additional 2 to 3 minutes.
Add the cranberries, sugar, a pinch of salt, and 1/2 cup water and bring to a simmer over medium-high heat
Simmer for 2-3 minutes, then cover, turn off the heat, and let cool to room temperature
Roasted Brussels Sprouts with Garlic and Bacon
Sugarfree Pumpkin Pie
Sweet Potato Pie
Caramel Apple Cheesecake Bars
Friday, 27th – (Movie Night) Turkey Soup with Egg Noddles and Vegetable (Thanksgiving Island)
Saturday, 28th- Szechwan Pork and Veggies (Fresh 20 GF October 9, 2015 )
Sunday, 29th –(Family Dinner) Prime Rib, Carrots and Baked Potato, Cranberry-Sesame Spinach Salad (pg 54) TOH Sept/Oct 2015
Monday, 30th – (Training Academy –6:00) – Mexican Casserole (Fresh 20 –11/13/15)
Tuesday, Dec. 1st – (Mom Works Late)
Baked Pork Chops With Rice, Peas
Ingredients
1 can cream of mushroom soup
1/2 soup can of water
1 cup wine (water can be used instead)
1 cup raw rice
6 pork chops, fat removed
1 package onion soup mix
sliced mushrooms
sliced almonds
Directions
Mix soup and water; add wine, if desired. Stir 1/2 of soup mixture with rice. Put in a buttered 9 x 13 inch dish. Place pork chops on rice mixture and cover with remaining soup mixture. Sprinkle onion soup mix, mushrooms, and almonds on top. Bake, covered, for 1 1/2 hours at 350 degrees
Wednesday, 2nd – (FPU8) – Eating at Church
Thursday, 3rd- Fall Skillet – Fresh 20 – 11/6
Friday, 4th – (Movie Night) –Chicken Quesadilla and Sliced Apples (Fresh 20 –11/13/15)
Saturday, 5th- Shake and Bake Chicken Thighs , Roasted Sweet Potatoes with Dijon and Rosemary – TOH Nov 2015 – pg 25, Mac & Cheese TOH Sept/Oct pg 86
Sunday, 6th –(Family Dinner) – Sunday Stuffed Pork Chops -TOH Sept/Oct 2015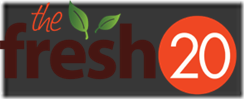 The Fresh 20 is a 5 day meal plan. They offer the following menus: Gluten Free, Dairy Free,
Classic, Vegetarian, For One, Kosher and Lunch
For more Menu Planning inspiration stop by and visit Laura at Organizing Junkie and participate in Menu Plan Monday. Need help getting started menu planning – Emeals is a great solution. Many meal plans to chose from at a very affordable price.
Wishing you all a wonderful week and a Blessed Thanksgiving!!!
Future Meals: