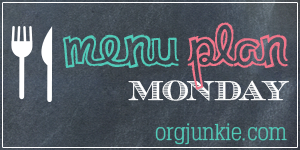 November 7th – 22nd, 2015
Saturday, 7th – Chicken, Broccoli Quinoa(Fresh 20 GF September 25, 2015 )
Sunday, 8th – – Loaded Baked Potato Soup, Baguettes, Salad
Monday, 9th –
Baked Pork Chops With Rice, Peas
Ingredients
1 can cream of mushroom soup
1/2 soup can of water
1 cup wine (water can be used instead)
1 cup raw rice
6 pork chops, fat removed
1 package onion soup mix
sliced mushrooms
sliced almonds
Directions
Mix soup and water; add wine, if desired. Stir 1/2 of soup mixture with rice. Put in a buttered 9 x 13 inch dish. Place pork chops on rice mixture and cover with remaining soup mixture. Sprinkle onion soup mix, mushrooms, and almonds on top. Bake, covered, for 1 1/2 hours at 350 degrees
Tuesday, 10th – Noodle Soup and Grilled Cheese
Wednesday, 11th – Biscuit and Gravy, Scramble Eggs
Thursday, 12th – Chicken and Rice Soup (Fresh 20 GF September 25, 2015 ) (Very Good Add to Site)
Friday, 13th – Turkey Reuben Sandwiches, Veggies and Hummus (Emeals A – 553) (Very Good Add to Site)
1/4 Cup Dijon Mustard
12 Slices Bread
6 Swiss Cheese
1 lb thinly sliced deli smoked turkey
1 (14oz) can sauerkraut, drained and rinsed
1/2 Cup Thousand Island Dressing
1/4 cup butter, softened
Spread mustard over 1 side of 6 bread slices. Top with 1 slice cheese. Place Turkey over cheese; top with sauerkraut and dressing. Cover with remaining bread slices. Spread butter on outsides of sandwiches. Cook sandwiches, in batches, in a large nonstick skillet over medium heat 2 to 3 minutes per side or until brown.
Saturday, 14th – Shake and Bake Chicken Thighs , Roasted Sweet Potatoes with Dijon and Rosemary – TOH Nov 2015 – pg 25, Mac & Cheese TOH Sept/Oct pg 86
Sunday, 15th – Hearty Beef Sweet Potato Stew – TOH Sept/Oct 2015 – 38 – Easy Cheese Biscuits TOH Dec 2-15 –pg 80 (Very Good – Add)
Monday, 16th – Meatloaf, Rich & Creamy Parmesan Mashed Pots – TOH Nov 2015 – pg 57, Carrots –
Tuesday, 17th – Creamy Chicken Quinoa Soup – Fresh 11/6 (Good – Add)
Wednesday, 18th – Leftovers
Thursday, 19th – Eggs Benedict with Homemade Hollandaise – TOH Nov 2015 and Fruit – pg 90 (Good –Add)
Friday, 20th – Mexican Pizza /Chips and Salsa/ Grapes (Emeals A – 553)
Saturday, 21th –
Makes 6-8 servings
Prep Time: 25 minutes
Cooking Time: 6 hours
1 lb. ground beef or turkey
2 – 15-oz. cans tomato sauce
2 – 15-oz. cans kidney beans or black beans, drained
1 envelope dry chili seasoning
15-oz can of water, or more or less
Brown ground beef or turkey in a non-stick skillet. Drain
Combine all ingredients in the slow cooker.
Cover and cook on Low for 6 hours.
** Fix-It and Forget-It – 5 Ingredient Favorites
Sunday, 22nd – Pork Chops with Herbed Cream Sauce, Baked Potatoes and Broccoli – (Taste of Home Cookbook –dark brown – pg 166)
FUTURE IDEAS
http://crockpotrecipes101.com/blog/2008/07/crockpot-chicken-chow-mein.html
Fall Skillet – Fresh 20 – 11/6
Szechwan Pork and Veggies (Fresh 20 GF October 9, 2015 )
BREAKFAST
Mini Ham and Cheese Quiche – TOH Nov 2015 pg
SOUP
Butternut Squash and Sage Soup – NOV 2015
SUNDAY
Baked Teriyaki Chicken, Mashed Potatoes, Corn
Fontina Rolled Chicken – TOH Sept/Oct 2015
Sunday Stuffed Pork Chops -TOH Sept/Oct 2015
The Best Chicken & Dumplings TOH Sept/Oct 2015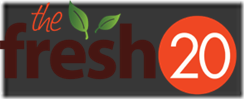 The Fresh 20 is a 5 day meal plan. They offer the following menus: Gluten Free, Dairy Free,
Classic, Vegetarian, For One, Kosher and Lunch
For more Menu Planning inspiration stop by and visit Laura at Organizing Junkie and participate in Menu Plan Monday. Need help getting started menu planning – Emeals is a great solution. Many meal plans to chose from at a very affordable price.
Wishing you all a wonderful week!!!