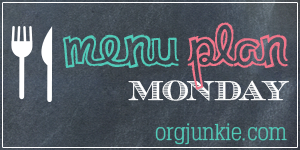 August 15 – 31st, 2015
Saturday, 15th – Crunch Asian Chicken Salad (Emeals 30- 598)
Sunday, 16th – BBQ Pork Chops (Grill It – 192) Herbed Potatoes and Veggies (uses Cherry Tom and Squash) (S&B Blue pg 179)
Monday, 17th – Mexican Stuffed Shells & Mexican Salad
Tuesday, 18th –Sausage and Rice Casserole and Vegetable
Wednesday, 19th – Ground Pork Taco Salad
Thursday, 20th – Pork Chops in Gravy (bakes 1-1/2hr) Stuffing and Corn
Friday, 21st – Turkey Burgers with Jalapeno Cheese Sauce (S&B Blue pg 140) , Beans and Cucumber Salad (Marinate Vegs for Tomorrow)
Saturday, 22nd – Salisbury Steak with Gemilli (S&B Blue pg 54) Marinated Vegetable Salad (S&B Blue pg 170)
Sunday, 23rd – Lemon Herb Brined Chicken (pg11), Pasta Salad (box) and Simple Snap Pea Salad (pg9 – Food and Family Summer 2015)
Monday,24th – Fast French Dip Sandwiches (S&B Blue pg 128) Lazy Days Potato Salad (make Ahead) (S&B Blue pg 151)
Tuesday, 25th – Ground Turkey Noodle Bake (bakes 15 minutes)
Wednesday, 26th – Skillet Shepherd's Pies and Fruit (S&B Blue pg 71)
Thursday, 27th – Creamy Turkey Rice Soup& Garlic Bread (S&B Blue pg 139)
Friday, 28th – Chili Dogs and Chips (Chicken Sausage for Jen)
Saturday,29th – Caprese Wraps with Chicken (uses Rotis Chicken)
Sunday, 30th – Grilled Pork Chops – Pesto Pasta with Green Beans (Food and Family pg 26)
Future Meal:
Baked Chicken and Mushroom Skillet, and Risotto
For more Menu Planning inspiration stop by and visit Laura at Organizing Junkie and participate in Menu Plan Monday. Need help getting started menu planning – Emeals is a great solution. Many meal plans to choose from at a very affordable price. We have switched to the 30 Minute Meal plan and find it so easy to plan our menu!
Wishing you all a wonderful week!!!
Happy Cooking!!