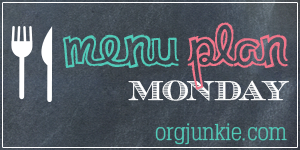 January 19th – February 2nd, 2014
It has been a wonderful weekend and very productive!!   Love a long holiday weekend that includes my birthday!   Hubby made my requested birthday meal, Broccoli Cheese Soup!   I love a weekend off of cooking and washing dishes.   This allowed me plenty of time to relax, cross stitch and do a few projects around the house.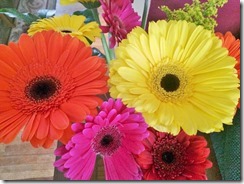 Birthday flowers….SPRING will come!!
Our oldest son hung out with us for the weekend and built a snow fort ( technically called a quinzee) with our youngest.  It was a two day adventure that kept them busy in the mild winter weather.  For some reason they said it was my birthday present…..no way this Mama is going into the quinzee and would definitely not sleep in it over night!
New Favorites from Last Week's Menu:
Southern Breakfast Casserole (Emeals # 515),  Italian Casserole (Emeals # 514), Pepperoni Rolls  (Emeals # 515)
Sunday 19th – (Soccer) – Spaghetti – Bread Sticks and Salad
Monday 20th – (HOLIDAY) – Beef with Red Wine Sauce (Crockpot) (Emeals # 515)
Tuesday 21st – Wild Rice Casserole, Glazed Carrots (Emeals # 514)
Wed 22nd – Meatball Soup – Grilled Cheese Sandwiches (Emeals # 516)
Thurs 23rd – (Book Group) – Chicken Cordon Bleu Casserole (Simple & Delicious –Dec/Jan 2014 – pg 10)
Friday 24th – Corn Dogs – Fries
Saturday 25th – Spinach Cheese Manicotti – Green Salad – French Bread (Emeals # 216)
Sunday 26th – (Soccer) Fontina Chicken & Pasta Bake – (Simple & Delicious –Dec/Jan 2014 – pg 10)
WEEK #2
Monday 27th – (Soccer) – Broccoli Scalloped Potatoes (Simple & Delicious –Dec/Jan 2014 – pg 12)
Tuesday 28th – Chicken Tortilla Soup (Emeals # 516)
Wednesday 29th – (Working Late) – Chili Beef Corn Bread Casserole (Simple & Delicious –Dec/Jan 2014 – pg 11)
Thurs 30th– (Sort) – Taco Spaghetti (Simple & Delicious –Dec/Jan 2014 – pg 15
Friday 31st – Meatball Subs – Strawberry Parfaits (Emeals # 516)
Saturday 1st – Chicken Dijon, Mashed Potatoes , Pear Spinach Salad (Emeals # 516)
Sunday 2nd – Sunday Chops and Stuffing (Simple & Delicious –Dec/Jan 2014 – pg 13)
Food Budget:  Decided to start tracking how much we spend on food/household expenses each month again in hopes to budget appropriately.  Wanting to keep our budget at $100 per person each month.   We are a household of 5 adults, 1 growing boy who eats like an adult and 1 toddlers.
This weekend was our HUGE shop. In that we were out of most cleaning supplies and paper products that we purchase at Sam's Club.   This is about a twice a year level of purchasing.
Shopping Trip:  1/18/14
Aldi – $139.19
Walmart – $103.12
Sam's Club – $354.00 (Toilet paper, plates, klennex, dish soap, paper towels, furniture polish, laundry soap, fabric softner, wipes,  – are items that are not purchased monthly)
Total for 2 weeks of food/Household Items for 6 months:  $596.51/ 6.5 (count baby as 1/2) = $91.77 per person or  $198.26 per week on groceries.
January Food/Household Total –  1/4/14 = $260.76  + 596.51 (1/18) = $857.27
Monthly Total:  $131.89 for 6.5 members of the household.
For more Menu Planning inspiration stop by and visit Laura at Organizing Junkie and participate in Menu Plan Monday.  Need help getting started menu planning –  Emeals is a great solution.  Many meal plans to chose from at a very affordable price.
Wishing you all a wonderful week!!!
Happy Cooking!!