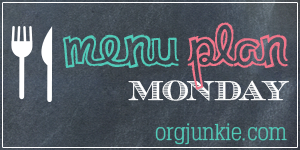 January 6th – 19th, 2014 
Hello Friends, I hope you all had a wonderful New Years!  I wish you the very best in 2014.  We started the New Year with upper respiratory illness for 1/2 of the household.  Most of us started getting sick on Christmas.   I think we have finally turning the turn and are heading towards health.  As always, menu planning really helped to keep the house running even with my hubby and I very sick.  We had the plan of what was for supper and the food was in the house.   The slow cooker also helps a lot when you are sick and still have a house of people to feed.   If you can manage to get everything in the slow cooker, you will wake up to a nice warm meal with little effort.  Makes for a happy family, when Mama is sick!
If you want to simplify your life in 2014, I would suggest giving menu planning a chance!   If you want to start out easy use a service like emeals to provide you with a monthly menu and shopping list and all you have to do it buy the groceries!!   I promise you won't regret it!
New Family Favorites from Last Week: Baked Coconut Shrimp
WEEK #1
Monday, 6th – (soccer) – Turkey Focaccia Club Sandwiches (Simple & Delicious: Oct/Nov 2013 – pg 21)
Tuesday, 7th –  (working late & soccer) – Chili (Slow Cooker)
Wednesday, 8th – Crab Melts and Chips – (Simple & Delicious: Oct/Nov 2013 – pg 22)
Thursday, 9th – Hearty Wild Rice Soup and Biscuits (Simple & Delicious: Oct/Nov 2013 –Pg 15)
Friday, 10th – French Bread Pizza,
Saturday, 11th – Crab & Lobster, Wild Rice and Normandy Veggies with Red Lobster Biscuits (New Years Dinner – was postponed due to illness)
Sunday, 12th –  (soccer) – Braised Pork Shanks with Mushroom Dumplings – Vegetable
WEEK #2
Monday, 13th –  (soccer) – Sirloin With Mushroom Sauce (Simple & Delicious: Oct/Nov 2013 – pg 23)
Tuesday, 14th –  (soccer) – Beef Vegetable Soup (Emeals # 515)
Wednesday, 15th – Southern Breakfast Casserole – Fruit Salad (Emeals # 515)
Thursday, 16th – Italian Casserole, Steamed Broccoli (Emeals # 514)
Friday, 17th – Pepperoni Rolls and Mixed Salad (Emeals # 515)
Saturday, 18th – Beef with Red Wine Sauce (Crockpot) (Emeals # 515)
Sunday, 19th  – Wild Rice Casserole , Glazed Carrots (Emeals # 514)
Food Budget:  Decided to start tracking how much we spend on food/household expenses each month again in hopes to budget appropriately.  Wanting to keep our budget at $100 per person each month.   We are a household of 5 adults, 1 growing boy who eats like an adult and 1 toddlers.
Shopping Trip:  1/4/14
Aldi – $115.18
Walmart – $87.38
Sam's Club – $58.20
Total for 2 weeks of food:  $260.76 / 6.5 (count baby as 1/2) = $40.12 per person or  $130.38 per week on groceries.
For more Menu Planning inspiration stop by and visit Laura at Organizing Junkie and participate in Menu Plan Monday.  Need help getting started menu planning –  Emeals is a great solution.  Many meal plans to chose from at a very affordable price.
Wishing you all a wonderful week!!!
Happy Cooking!!