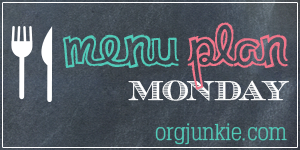 December 2 – 15th, 2013
I hope you all enjoyed a lovely Thanksgiving with your family.  We had a nice time.  We had 14 people for our Thanksgiving meal and another 9 more who joined us for dessert after our meal.   It was a lovely day spent with those we love!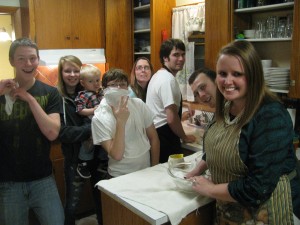 Lots of guests meant a lot of help with the dishes!!!
Hard to believe it is already December!   December is a very busy month for us with a lot of entertaining, which means menu planning is even more important for us.  We try to plan simple meals in December.  I am posting the menu for the next two weeks as I am finding my myself very busy.
Planning is the key in our house to having a relaxed holiday season.  After many years of chaos, we have it down to an art at this point.  Today is December 3rd, our Christmas Shopping is done, we have decorated for Christmas and our Christmas Photo cards are already addressed.  Having these items complete allows our family to enjoy the season.  We (mostly me) watch Christmas movies, ring the bell for the Salvation Army and have a number of parties to celebrate the season with our family.
I hope you are finding ways to simplify your holiday season this year so you can focus on what matters most

 Week # 1
2nd – (working late) – Split Pea and Sausage Soup – Bread and Butter
3rd – Macaroni And Cheese – Vegetable
4th – Pesto Chicken Tortellini Soup x 2– Grilled Cheese Sandwiches
5th – (sort) – Parmesan Crusted Chicken, Rice and Green Beans
3 chicken breasts, thawed, halved and pounded
2/3 Cups mayo
1/3 cups grated Parmesan
5 tsp Italian Bread Crumbs
Combine Mayo and Cheese. Spread on chicken then sprinkle with bread crumbs. Bake at 425 for 20 minutes.
6th – Crab Salad Croissants – Chips (simple Delicious Cookbook – 62)
7th  –  Ham in Crockpot,  Corn and Mashed Potatoes (good)
8th –  Chicken and Egg Noodle Casserole, Vegetable – (Taste of Home =November 2013 –pg 99)
 Week # 2
9th – Loaded Baked Potato Soup, Cheese Pull Apart Bread  x 2
10th – Roast In Crockpot – Roasted Veggies
11th – Grilled Cheese and Noodle Soup
12th (Tom Christmas Choir Concert) – Lasagna Roll Ups – Garlic Bread
13th – Taco Night
14th – Country Meat Loaf , Baked Potato and Vegetable
15th (Cookie Exchange Party) – Appetizers
For more Menu Planning inspiration stop by and visit Laura at Organizing Junkie and participate in Menu Plan Monday.  Need help getting started menu planning –  Emeals is a great solution.  Many meal plans to chose from at a very affordable price.
Wishing you all a wonderful week!!!
Happy Cooking!!