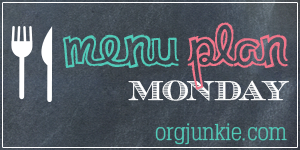 November 25th – December 1st
25th – Rosemary Chicken and Veggies (Crockpot) – Emeals 507
26th – Deluxe Baked Macaroni and Cheese – (Taste of Home – December 2013 – pg 72)
27th – Pesto Chicken Tortellini Soup x 2– Grilled Cheese Sandwiches
28th – Thanksgiving Meal at the Coyan's
Simple Turkey  / Herb Butter
1 14-15 pound turkey
1 stick margarine, softened
Bay leaves
Adobo, to taste
1 carrot, chunked
1 stalk celery, chunked
1 onion, quartered
1 green apple, quartered
½ C. water
Heat oven to 500 degrees. Wash the turkey and pat dry (save the bags of parts for your gravy). In the turkey cavity place all your vegetables. Separate the skin carefully from the turkey and place bay leaves and slices of half of the margarine under the skin. Rub the outside of the turkey with the rest of the margarine. Season to taste with adobo. Place turkey breast side up in a roasting pan. Put water in pan around the bird not over, you don't want to wash away the margarine or seasoning. Cover turkey tightly with foil, removing the foil about 1 hour before turkey is done to brown the skin. Cook turkey at 500 degrees for 30 minutes, turn oven down to 325 and cook for 3-4 hours or until done, a meat thermometer inserted into the thigh without touching the bone should read 180 degrees when bird is fully cooked. Let turkey rest for 30 minutes before serving.
Stuffing-Dressed Up
2 boxes of stuffing mix like Stove top
1 huge onion, sauteed
4 stalks celery, sauteed
1 lb. sausage, cooked
Prepare stuffing according to package directions, before serving stir in other ingredients.
Dinner Rolls
Cranberry Caramelized Onion Sauce
Ingredients
1 Tbs. vegetable or canola oil
1 large yellow onion, cut into medium dice
Kosher salt and freshly ground black pepper
One 12-oz. bag fresh or thawed frozen cranberries, rinsed and picked over (3-1/2 cups)
1 cup granulated sugar
Directions
In a 10-inch straight-sided sauté pan or skillet, heat the oil over medium heat. Add the onions, a pinch of salt, and a grind or two of pepper. Reduce the heat to low, cover, and cook, stirring occasionally, until the onions are golden-brown and very soft, 20 to 25 minutes. Remove the lid, increase the heat to medium high, and cook the onions, stirring often, until deep caramel-brown, an additional 2 to 3 minutes.
Add the cranberries, sugar, a pinch of salt, and 1/2 cup water and bring to a simmer over medium-high heat
Simmer for 2-3 minutes, then cover, turn off the heat, and let cool to room temperature
Pumpkin Pie Bars (Simple & Delicious: Oct/Nov 2013 – pg54)
Apple Caramel Cheesecake Bars (Simple & Delicious: Oct/Nov 2013 – pg52)
29th – (Holiday) Turkey Soup with Egg Noddles and Vegetable (Thanksgiving Island)
30th – Turkey Dijon Melts – Chips&Dip (Simple and Delicious Cookbook – pg 60)
1st – Pancakes, Bacon and Scrambles Eggs
Lunch:   Pesto Pasta in a Jar / Cobb Salad in a Jar
For more Menu Planning inspiration stop by and visit Laura at Organizing Junkie and participate in Menu Plan Monday.  Need help getting started menu planning –  Emeals is a great solution.  Many meal plans to chose from.
Wishing you all a wonderful week!!!
Happy Cooking!!