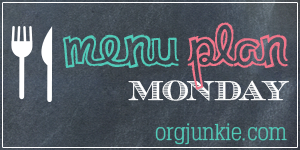 September 9th – 15th, 2013
Monday – Teriyaki Chicken Kabobs, Pasta Salad and Fruit – (Emeals – 494)
Tuesday – Hearty Wild Rice Soup and Biscuits (Simple & Delicious: Oct/Nov 2013 –Pg 15)
Wednesday – (working late) Savory Cheeseburger Patties Over Rice, Sautéed Mushrooms and Peaches (Emeals 498)
Thursday (Sorting) – B&B Casserole – Toast – Strawberries (Emeals 497)
Friday – Crab Melts and Chips – (Simple & Delicious: Oct/Nov 2013 – pg 22)
Saturday – Rosemary Chicken with Rice and Green Beans with Yellow-Pepper Butter (Simple & Delicious: Oct/Nov 2013 –pg 25 & pg 44)
Sunday –(2:15 Game)  Bacon Swiss Pork Chops – Vegetable and Salad (Simple & Delicious: Oct/Nov 2013 – pg 18)
DESSERT: Cherry Bars (Simple & Delicious: Oct/Nov 2013 – pg 53)
Basil Butter- (Simple & Delicious: August/Sept 2013 – pg 54) – Make and Freeze to use on grilled meat, pasta, vegetables  and bread.
For more Menu Planning inspiration stop by and visit Laura at Organizing Junkie and participate in Menu Plan Monday. More menu planning fun can be found at The Organised Housewife.
Wishing you all a wonderful week!!!
Happy Cooking!!