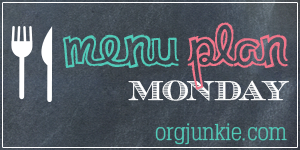 August 26th – September 1st, 2013
Monday – Over the Rainbow Mac and Cheese / Bologna and Green Beans
Tuesday (Soccer) – Cheesy Hashbrown Casserole with Ham
Wed (Sunrise Open House) – Cobb Salad – Emeals 464
Thursday (Soccer) – French Dip Sandwiches (Simple & Delicious June/July 2013 – pg 9) – Fries
Friday – Steve Cooking – Pot Pies
Camping – Ribs and Mac & Cheese
Saturday – (Steve Cooking) Beef Stroganoff- Peas
Beef Stroganoff
1 lb ground beef

8 oz sour cream

1 can cream of mushroom soup

(1 t salt, 1 t onion powder)

(¼ c water, 1 t beef bouillon cube)

1 pkg egg noodles

1 pkg frozen peas
In large skillet, brown the ground beef; drain. Add sour cream, soup, salt, onion powder and water to skillet. Heat to a low boil; add bouillon. Stir to dissolve; reduce heat to simmer.
Boil noodles while preparing meat mixture. Serve stroganoff over cooked noodles. Serve with steamed peas
Camping – Lunch: Cup of Soup/ Grilled Cheese Sandwiches
Supper: Hamburgers – Potato Salad
Sunday – (Steve Cooking) Soup
Camping – Lunch: Sandwiches / Chips/ Apples
Supper: Brats – Pasta Salad
Camping Snacks: Cookies, Warm Cheese Dip – Tortilla Chips, Popcorn
For more Menu Planning inspiration stop by and visit Laura at Organizing Junkie and participate in Menu Plan Monday. More menu planning fun can be found at The Organised Housewife.
Wishing you all a wonderful week!!!
Happy Cooking!!
This post is linked to Menu Plan Monday at I'm an Organizing Junkie.