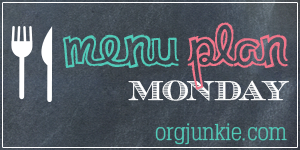 August 19th – August 25th
Is Back To School time crazy or what???   My son hasn't even gone back to school and my house is falling apart.  So instead of a menu plan, this is more of a "here's what we have eaten so far this week".   Some nights we have been lucky to eat.   Do you ever have a week like that??
I returned on Sunday, August 18th from a week at my parent's house in South Dakota!  I came home unpacked one of three bags and went to bed.   Returned to work the next morning right away.  I had not made it to the grocery store and no menu made for the week.  I had brought home a bunch of sausage from South Dakota so we managed on Monday.  Tuesday night after work, I headed to Aldi with my menu in hand.  Tuesday was the only evening I had available.  Wednesday was Back To School Orientation and Thursday I was suppose to be at book group.  Instead I was home SICK!  What a week!
BTW- School starts after Labor Day here and I have yet to buy School Supplies.  Anyone that knows me will be in shock over that, considering I already have some Christmas presents bought!
BTW – soccer started again so life is CRAZY!
OUR MENU
Monday – Sausage, Red Cabbage, Pesto Orzo
Tuesday – Pizza
Wednesday – Bacon Spinach Caesar Wraps (Emeals 494)
Thursday – (book Group) Chicken Salad Sandwiches and Fruit
Friday – Baked Quesadillas and Salad (Emeals -485)
Saturday – Spaghetti Pie / Salad
Sunday – Spiral Ham in Crockpot–  Pesto Rice and Broccoli
For more Menu Planning inspiration stop by and visit Laura at Organizing Junkie and participate in Menu Plan Monday. More menu planning fun can be found at The Organised Housewife.
Wishing you all a wonderful week!!!
Happy Cooking!!