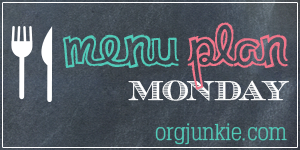 August 12th – August 18th
Monday: Spaghetti and Meatballs – Garlic Bread
Tuesday: Hoagies (Meat & Cheese) and Chips
Wednesday: Brats and Fries
Thursday: Pot Pies
Friday: Frozen Pizza
Saturday: Biscuits and Gravy
Sunday: Chow Mein/Noodles and Rice
Can you tell by the menu that I am out of town??   Hubby will be feeding the family in my absence.
For more Menu Planning inspiration stop by and visit Laura at Organizing Junkie and participate in Menu Plan Monday. More menu planning fun can be found at The Organised Housewife.
Wishing you all a wonderful week!!!
Happy Cooking!!