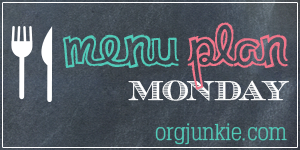 July 29th – August 4th, 2013
29th – Monday –(Off) – Mushroom Stuffed Hamburger Steaks (Emeals Aldi 489)– Watermelon
30th – Tuesday – Salsa Sirloin Salad – Garlic Rolls – (Emeals Aldi 491)–
31st – Wednesday – Unstuffed Cabbage
1st – Thursday -(sorting) – Bacon –Turkey Cobb Sandwiches / Chips (Emeals Aldi 490)
2nd – Friday (Tommy home from camp) – Chicken Quesadillas (Emeals Aldi 489)– Watermelon
3rd – Saturday- Rotisserie Chicken (Crockpot) /Macaroni Cheese/ Broccoli
4th – Sunday – Apricot Country Ribs / Awesome Pasta Salad (All Recipes pg 30)/ Corn
Lunch:  Pizza Pasta Salad – Watermelon (Emeals Lunch 488)
Ham Pinwheels – (Emeals Aldi 489)–
Dessert:  Bread Pudding
For more Menu Planning inspiration stop by and visit Laura at Organizing Junkie and participate in Menu Plan Monday. More menu planning fun can be found at The Organised Housewife.
Wishing you all a wonderful week!!!
Happy Cooking!!
This post is linked to Menu Plan Monday at I'm an Organizing Junkie.