It has been a very busy week in our home.  Tommy has been in Musical Theater Camp all week and headed to Riverside Lutheran Bible Camp in Iowa today.
This was the first year Tommy has participated in Musical Theater Camp at our church.  I was so impressed by the entire production.   We have such amazing and talented staff that work with our kiddo!
Tommy headed to camp this afternoon.  He will be gone until Friday, which he is fine with but Mom is missing him already.  Today as we were getting ready to send our little guy off to camp, I was struck by what an amazing church family we have.   The pictures above were sent to us by one of those amazing parents.  What a relief that the Verley's were taking the kids down to camp!  They are the greatest!
Ryan and Chelsea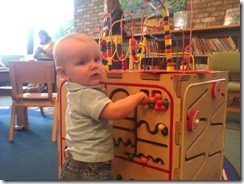 Hanging out at the library while Mommy is at work.
Random Pictures from Tommy….
I have always loved finding pictures on my camera taken by my children.  They are always a wonderful look into their thoughts!   These are some of the pictures I found this week from our budding photographer, Tommy!  Never know what you will find, seems this week that Tommy was admiring the beauty of flowers in random neighbor's yard!
In Our Garden: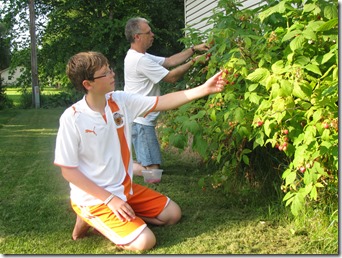 Picking Raspberries with Dad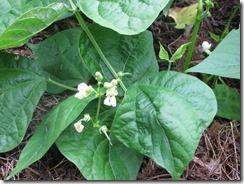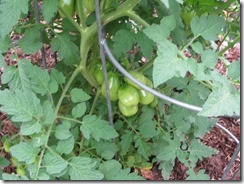 Our beans are flowering and we have some small tomatoes.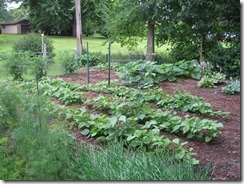 New Recipes Tried:  Easy Skillet Lasagna – very easy and good!   Holiday Tortellini Soup another winner from our Taste of Home Best Loved Recipes cookbook!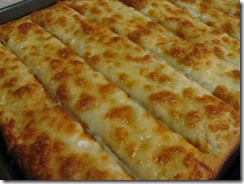 I has has some leftover refrigerator pizza dough so I made bread sticks out of it.  These turn out very good, I was surprised!
Hope your week is filled with wonderful everyday moments with family and friends!
Blessings,